Everyone knows the situation – summer is just around the corner, everyone goes on vacation, goes to the outdoor pool and enjoys the time outside with friends.
But what to do when the wallet is empty? To actively participate in life, you need money. And how could you earn money faster and easier than with a summer job?
Whether it's summer vacation, semester break, or just on the side – in this article you'll find the best summer jobs.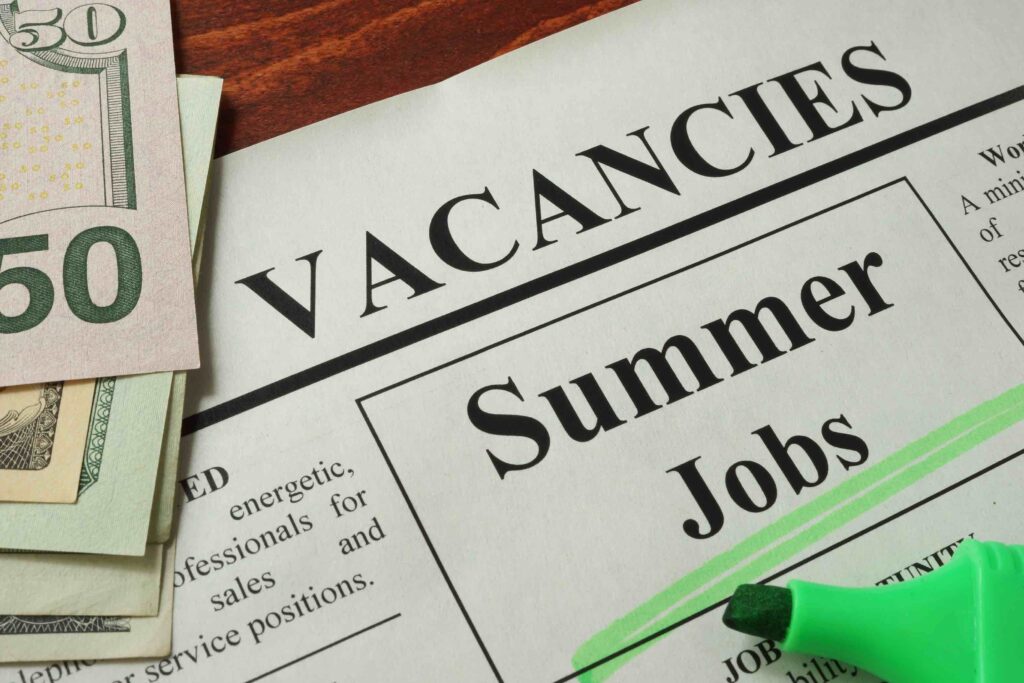 Summer jobs for college students: What should you consider?
Summer break is not only a good time to relax and travel, but also to replenish your bank account and earn some serious money. Many students finance part of their college expenses with earnings from part-time jobs, which is why they rely on a wide range of job opportunities.
How much you make is one of the most important factors in a job. When choosing, make sure that at least a higher minimum wage is met. Waiting tables, for example, often pays only minimum wage, yet you might be able to keep the tips. Self-employed people can often set their own salary. Depending on the complexity of the tasks, you may earn more or less. Look for a job that suits you both in terms of pay and tasks.
Many college or high school students can only work part-time during the semester. Talk to your employer about your capacities beforehand and find a balance between work and study in your upcoming semester. If you only want to work during the summer holidays, you should discuss this with your employer as well.
Good planning is also very important during a job search.
During the summer, you want to earn money but also spend time with your friends and family. An ideal job offers some flexibility that allows you to have a personal life and enjoy your free time.
Not only can you earn money with a summer job, but you can also gain invaluable work experience. In a competitive field, work experience and an established professional network can help you find a job after graduation.
A summer internship and half-time jobs are welcome on your resume and will give you an edge over other colleagues in addition to experience. So it will be easier for you to get a job later. If you're pursuing a graduate degree or want to work for well-known companies, a prestigious internship or office job can look impressive on your resume or get you to your career path faster.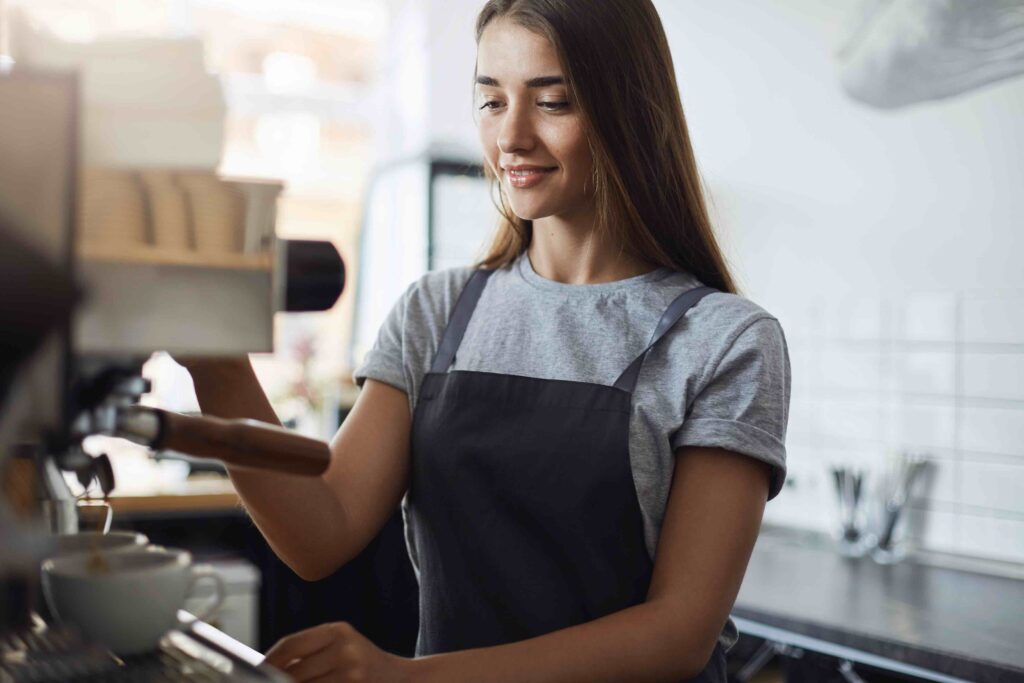 Best summer jobs for teens and college students
1. Landscaping
Mowing lawns, planting trees and watering flowers can be an easy way for high school students to earn some extra money during their free time. Not only will the neighbors be happy to have some help in the yard, but if you publish a notice with your service offerings, you're sure to get lots of requests.
One advantage of this job is that you can spend most of your time outside.
You can also apply at a garden center or a professional landscaping company. However, in a company you are bound to specific working times and other conditions, but you can probably earn more than through private offers.
2. Lifeguard
Of course, to work as a lifeguard, you need to be a good swimmer and get certified. You can work for your local recreation center, a community pool near you, or even a water park.
This is a great opportunity if you love the water and being outside in the sun. A young team will take you in and you can interact a lot with other people.
3. Farm workers
In more rural areas, teens and college students can find work on local farms. Work may include feeding and caring for farm animals, haying, plowing, planting, harvesting, and more.
Remember that working on a farm is hard, physical labor. For people who like animals and enjoy physical activity outdoors, it's just the right summer job, though.
Tip: If you like to travel, you can take advantage of this job offer in many countries.
4. Golf caddy
If you have a golf course nearby, you're in luck. Because this is where teenagers and college students can earn great money as caddies.
Teens can earn a lot of money as a caddy at a golf course. The pay depends on the facility. Caddy programs are usually available at older, private golf courses. Golf caddies are usually paid per bag and can earn between $100 and $120 carrying two bags for 18 holes.
As golf has changed over the years, this job offer is far from available at every golf course. It certainly helps if you know someone who can refer you to a summer job like this.
5. Referees
Local youth recreation and travel leagues often hire youth as umpires and referees. Referees and umpires usually get paid per game.
The downside of this summer job is that you usually don't make friends. No matter what decision you make in the game, someone is likely to be unhappy with it.
Sometimes there are positions where keeping score is one of your duties. If you are interested in sports, you will definitely enjoy this summer job.
6. Harvester
Whether it's fallen fruit, berries or vegetables, harvest helpers are something every farmer can use. Ask the nearest farmer if you can help with apple picking or other harvests.
Harvest helpers can be paid per hour or per pound. This is where it pays to gather quickly. Be prepared for heavy lifting and long days.
7. Swimming instructor
If you can swim well and enjoy contact with kids, you can become certified as a swimming instructor. For those who love swimming, this is one of the most popular summer jobs !
Tip: You also can offer private swim lessons in the community pool for kids to get some extra cash.
8. Dog walker / Pet sitter
As a dog walker you can walk, play and cuddle with other people's dogs. If you like furry friends but can't afford a dog of your own, you will thrive in this job.
Often dog sitters/ pet sitting students are wanted during vacation times, while the family is on vacation you can look a few hours a day after their dog.
Many owners then hire teens to make sure their animals are well cared for.
9. Temporary help in a movie theater
In the cinema you can sell tickets and popcorn and watch all the free movies on the side. At the end of the program, you will be responsible for cleaning and tidying up the cinema. If you want to make money besides school and get paid well, this relaxed job is just right for you!
You will also work in a team and have a lot of contact with different people. You should therefore not shy away from customer contact.
The perfect summer job for young adults
1. Food stocker / Packer
You can also earn some money at the grocery store. As a stock boy, at the cash register, or as a bagger – there are quite a few opportunities to find a job in grocery stores.
Duties include sorting groceries, stocking the warehouse, and removing expired food. You may also help customers put groceries in their cars. Many supermarkets have special working hours in the warehouse.
Tip: You should be prepared to get up early to do this job.
2. Cashier
As a cashier, you can easily work part-time.
This way, you still have enough free time in the summer and can enjoy the nice weather. Good jobs as a cashier are mostly found in grocery stores and retail stores.
Cashiers, of course, have to learn how to use a cash register. They also handle money and must keep a balanced cash drawer. For the job, you must be reliable, have customer service skills and not fear customer contact.
3. Tutoring
If you have a good basic education and enjoy teaching, you can offer tutoring. Especially before exams and tests, the offer will be in demand. If you prepare the kids well for the next exam, two people will benefit from this job at once.
A great advantage of this job is that you can choose your own field and working schedule. You can also work out the teaching program in advance and be well prepared for the next lesson.
As a tutor, you can set your own salary. Here it depends on the demand. You should be able to explain concepts and contexts clearly and simply and have a lot of patience.
4. Entertainment for children parties
If you are up for any fun, like to dress up and like children, you can try being an entertainer. With a little creativity, children's parties will be a complete success!
Magic tricks and funny performances with colorful costumes will make children's eyes light up and happy parents will tip you a little more.
Hint: Maybe you'll get a piece of the delicious birthday cake.
5. Summer camp counselor
If you loved going to day camps as a teenager, you'll feel like you've stepped back into your prime as a college student.
As a camp counselor, however, this time you'll be in charge of the little ones and also responsible for the program. Lodging and food are taken care of in this summer job.
6. Bartender
Bartending is a great summer job opportunity for college students, as many more positions become available during the warmer months.
Freshmen can work in a bar with no experience to boost their cover letters and resumes, while earning some money to pay off their student loans.
If you want to set yourself apart from other applicants, you can take additional classes where you learn to make cocktails and entertain your customers. For this job, you should be outgoing and willing to work evenings/nights.
7. Restaurant server
More and more restaurants and cafes are reopening their patios in the summer. With many seats and patrons to serve, the need for restaurant workers and this type of summer job in general rises sharply in the summer.
Customer service, communication, and teamwork are emphasized in this job.
8. House sitters
Many wealthy people are looking for house sitters during the summer months.
This summer job is very relaxing because you can also do your own business like chores or home office jobs during working hours. The homeowner pays you to take care of the house, water the plants, take care of pets if necessary, and keep the yard tidy while the owner is away.
How to apply for summer jobs?
How to find jobs? If you want to start saving money, gain experience or get more income, you should start searching for summer jobs that fit your needs in terms of time and salary. Send an online application to different companies and start making money during summer.
While some jobs will advance your career, other jobs allow you to just have fun. When searching, you need to decide if fun or career comes first and where in the world you want to work.
Most people are looking for summer jobs like sales associate, food service or in movie theaters near their home, while others want to make money worldwide as a hotel receptionist, freelance writer or at seasonal work.
As you can see, there are a lot of opportunities to find summer jobs, you just have to start looking and get a job to experience the best summer with a lot of new experiences. And who knows if the next job will not only bring more money, but perhaps also new friends or open new doors.