Do you want to create a winning business proposal?
Are you a freelancer and have recently started a new business? Maybe you also need to draft a business proposal for your company to attract new clients.
This is often a scary thought, especially for young entrepreneurs. Yes, you have a great idea, and you also know that a certain target audience or customer base could benefit extremely from your product or service.
But how exactly do you reach prospective clients who can benefit from your service?
This is where well-formulated business proposals come in. These help close the gap between you and your potential clients. With a strong proposal, you can present your value proposition and convince a company to start doing business with you.
To help you get off to a good start in the world of business proposals, we've created this guide.
Not only will we explain what a good proposal should include, but we will also give you great examples and free templates you can use for your next business proposal.
Here's to a successful proposal!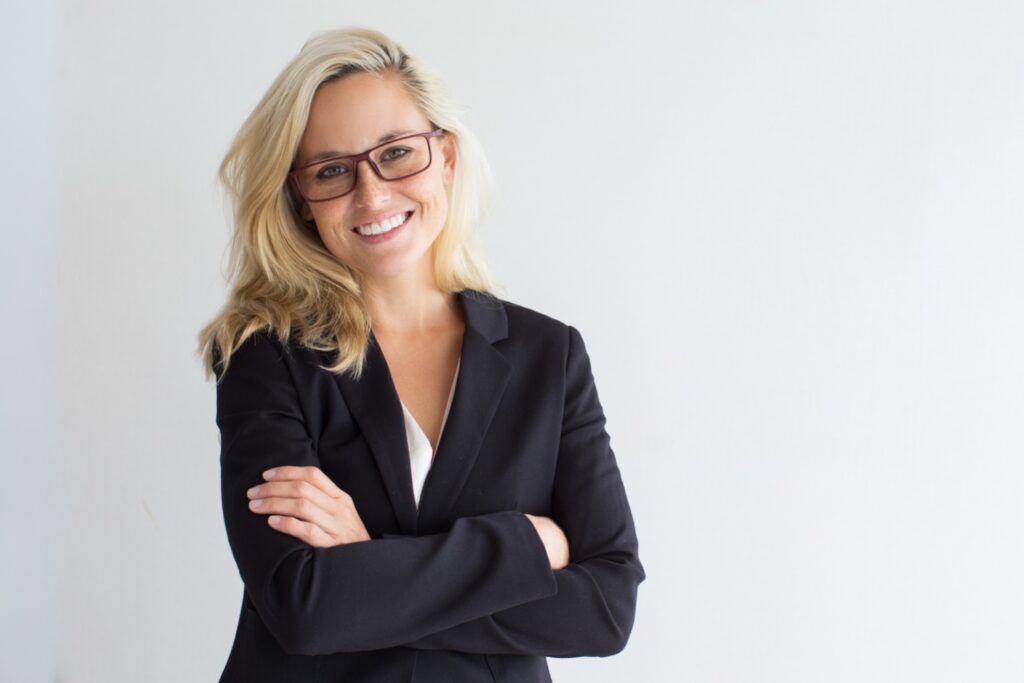 What is a business proposal?
A business proposal is both a self-presentation and a sales pitch.
Namely, in business proposals, an entity like a business person wants to convince a potential customer to buy their products or services. Therefore, in this kind of proposal, a prospective client is being informed in detail about what work will be done, how much it will cost, and why the individual or their company is qualified to do it.
A good business proposal is able to accurately address the needs of potential clients. This means thoroughly explaining why you are the best person for the job, and selling yourself or your company in a way that simultaneously highlights the added value for the potential customer.
📝 Note: Creating such a proposal is often a lengthy process. Therefore, further down in this guide, you will find business proposal templates that will help you tackle the creation of an entire proposal with ease!
What is the difference between solicited and unsolicited business proposals?
There are three types of business proposals:
Formally solicited proposals
Informally solicited proposals
Unsolicited business proposals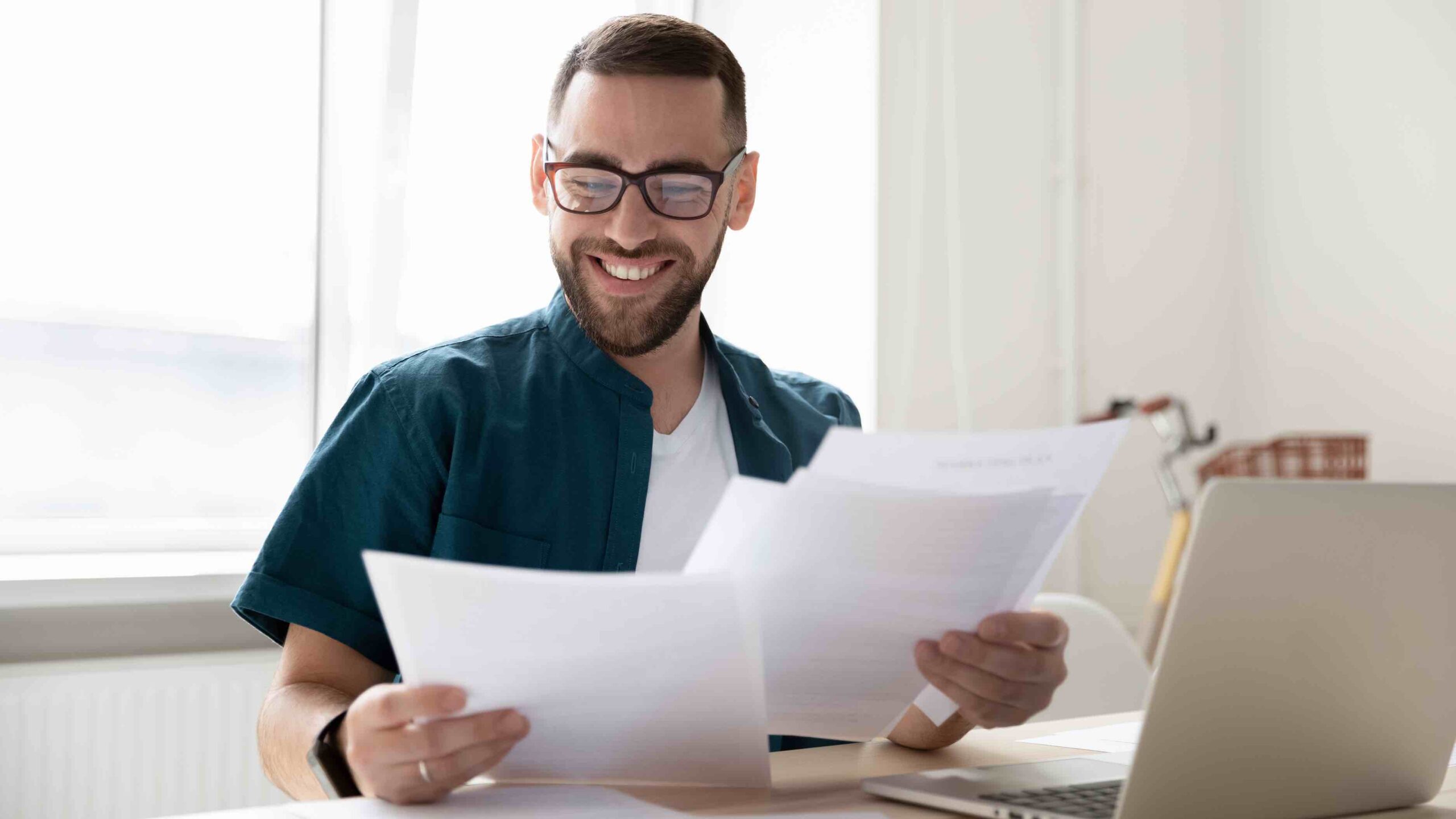 Formally solicited proposal
In this type of business proposal, a company asks another company or individual to provide it with a proposal on how it can solve a particular problem.
📝 Note: In this case, the client's company will most likely hire you, as you already know all the requirements and only need to write a formal proposal for the sales process to begin.
Informally solicited proposal
Informal business proposals are written when there is no formal request. A potential buyer is interested in your services and asks for a quote, so they can evaluate you first.
📝 Note: This type of proposal is not based on official requests (which often contain more details). Therefore, you may have to do more research here, and the sales process usually does not start immediately.
Unsolicited proposal
In the case of unsolicited business proposals, you approach potential customers with a specific offer. Your prospective client has not asked for a quote beforehand.
📝 Note: You can definitely be successful with this type of offer if you approach your potential client with a customized solution to their problem. Did you know that government agencies in particular actively encourage the submission of unsolicited proposals?
💡 Tip: Make sure that both solicited business proposals and unsolicited proposals include a description of the problem, a proposed solution, and pricing information.
Before you start writing a business proposal
A good business proposal commences with gathering information and assessing the potential customer's problems.
Therefore, before you start writing, you should not only have information about your own business (especially your background and qualifications) ready, but also already possess in-depth knowledge of your potential client's issue.
So even before you start your business proposal, you know what the customer needs and have a viable solution in store for them.
When you have good background information, you can also approach pricing and methodology more easily: You already have an understanding of how you're going to solve the customer's problem, you have detailed information about the solution you're proposing, and you know how much it's going to cost.
Now that we've covered the basics, let's get down to the nitty-gritty!
How to write a business proposal in 10 steps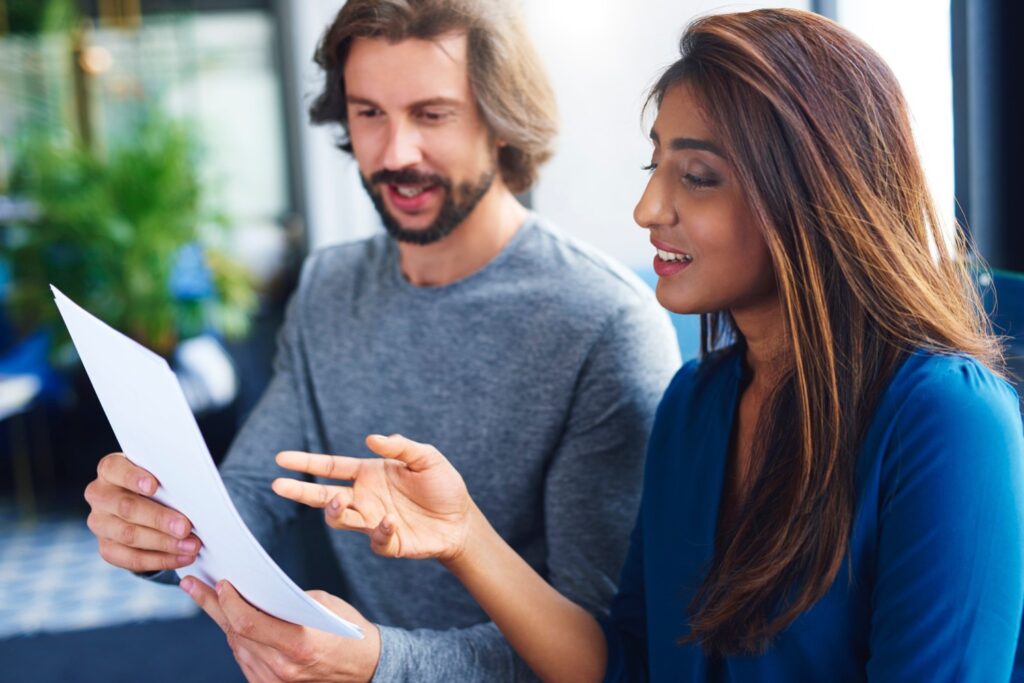 Step 1: Title page
Your cover page contains basic information:
💼 Your company name
📒 Your contact details
🦄 Your company logo
Also:
💼 Your client's name
📒 Their contact details
And, of course:
Since your title page is the first thing your potential customer sees, everything should look neat and tidy. Make it intriguing! Feel free to add some visual touches, for example, by placing certain graphics that will make your offer stand out.
💡 Tip: Try to show both motivation and a professional attitude on the cover page of your business proposal.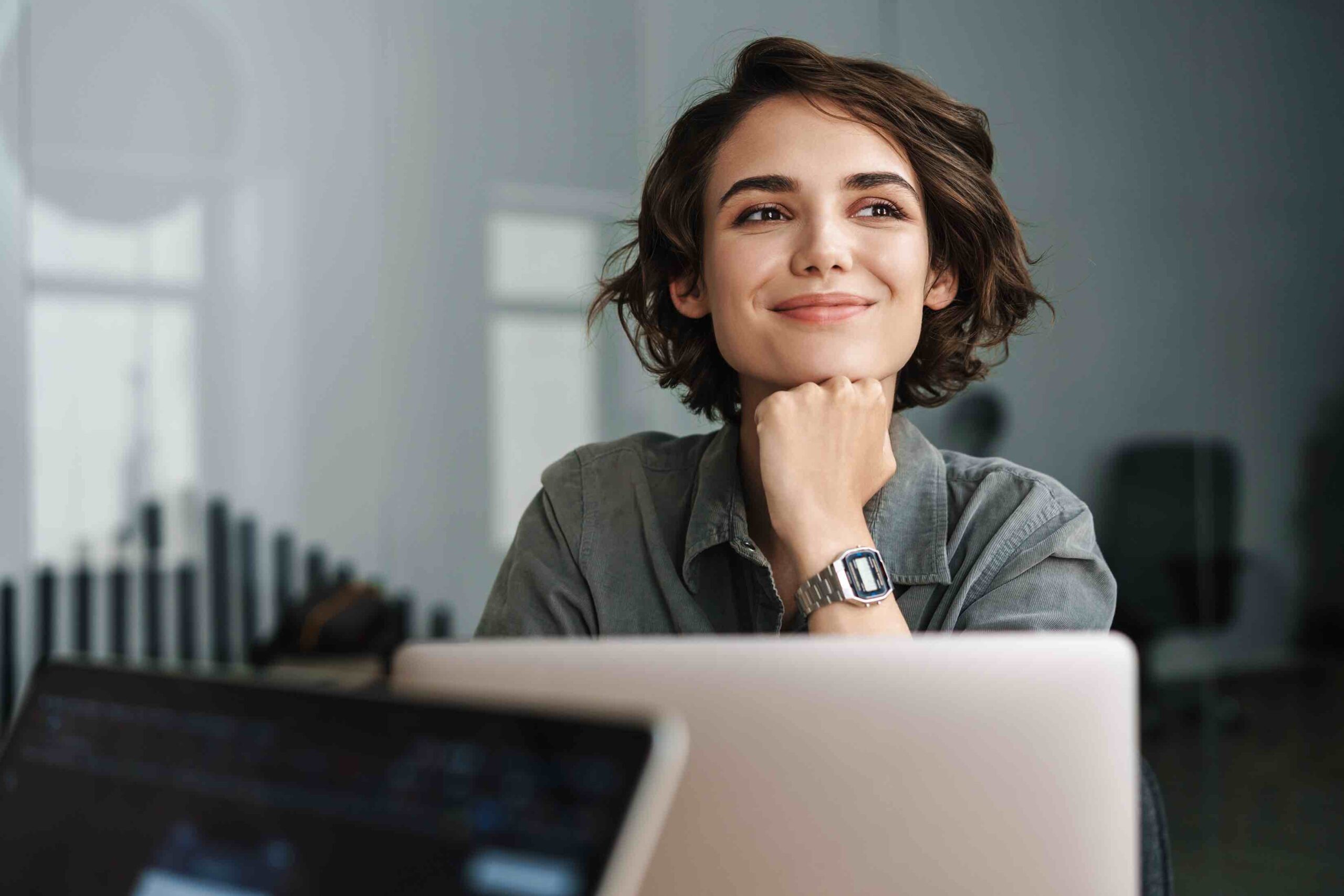 Step 2: Cover letter
It's time to introduce yourself.
In your introduction, it's usually advisable to write one or two paragraphs about your business, briefly give background information about how your company was formed, and write an additional line or two about why and how your business sets itself apart from others.
💡 Tip: Try to craft the cover letter of your business proposal in a way that makes the other person want to know more.
Step 3: Table of contents
Bring structure to your business proposal.
A table of contents that describes the basic outline of the entire document is usually not a bad idea.
📝 Note: This overview directly helps the reader to orient themselves, and they can also see what to expect in the offer.
💡 Tip: If you send your proposal electronically, you could design the table of contents in such a way that your contact person can jump directly to the individual sections by clicking on the corresponding heading.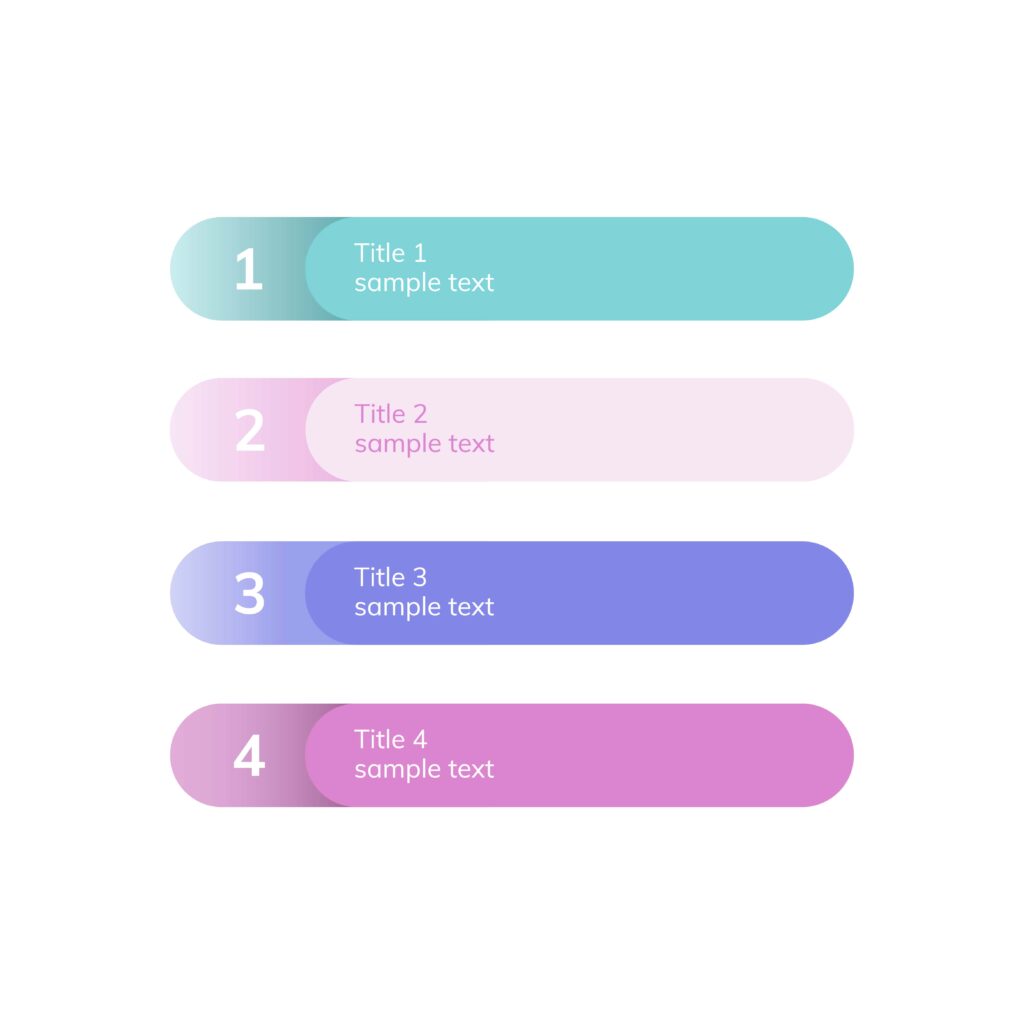 Step 4: Executive summary
Why are you the best choice for your potential customer?
Your executive summary provides a quick overview of the content of the entire offering. Similar to a value proposition, the executive summary highlights:
The benefits of your company's services
and
The way in which they can solve the problem
💡 Tip: Write your executive summary in a way that gives your potential client a clear idea of how you can help them – without them having to read the entire offer.
Step 5: Problem statement
Now is the time to show that you thoroughly understand your prospective client's needs.
In this part of the business proposal, you should outline your potential client's problem as succinctly as possible. You can cleverly try to create a sense of urgency in your potential customer: After reading the problem statement, they should immediately want to find and implement a solution.
📝 Note: A well-worded problem statement could also reveal a problem that prospective clients may not have even known they had!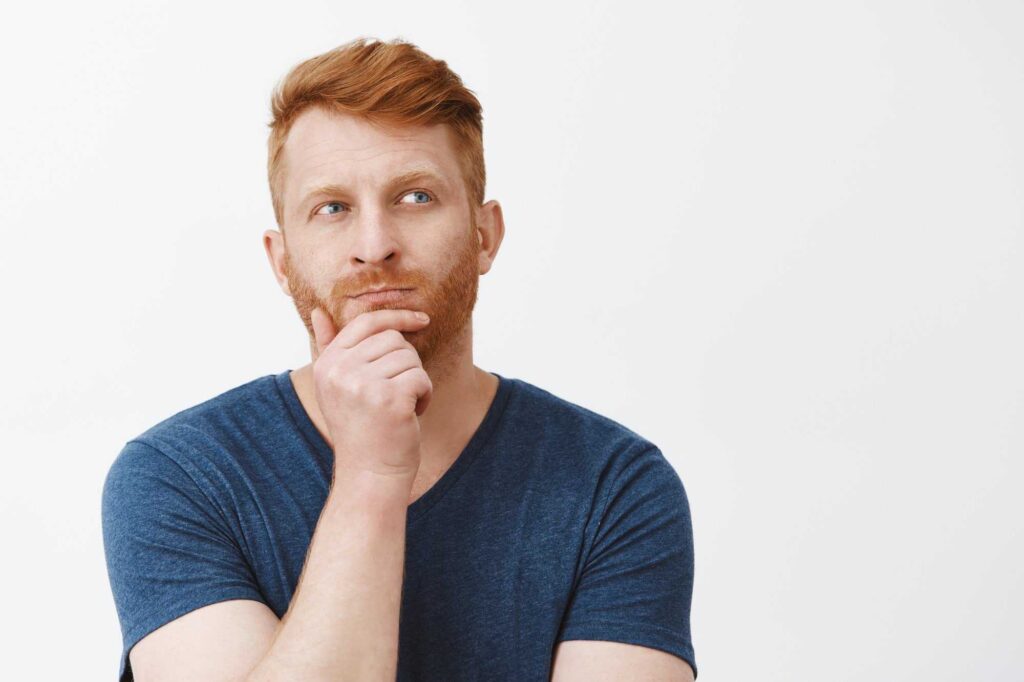 Step 6: Proposed solution
Next, offer a particular solution to solve the problem.
In this step, you describe the strategy you will use to solve the problem. It is especially important to be specific and to personalize this section of your business proposal.
Let the customer know:
What service you will provide
Who will be involved
What methods and resources you will use
When the work will begin and be completed
What will be important milestones during the project
Why you have chosen this particular solution for the client
📝 Note: In our business proposal examples below, we will give you some creative ideas on how to craft your proposal with goals, challenges, and proposed solutions.
Step 7: Pricing table
When it comes to money, the most important thing is clarity and transparency.
To have some leeway in pricing (you don't want your potential customer to reject your offer because the price is too high), you can add a pricing chart. This way you can offer your client certain options for their budget.
📝 Note: In this list, each service should be clearly identifiable and associated with accurate pricing information. After all, transparency is key here.
There's probably no customer who doesn't want to know what costs are coming their way.
💡 Tip: Certain software tools allow you to set up responsive pricing tables. This means that your prospect can simply select the services they want, and the total cost is then automatically adjusted in the quote.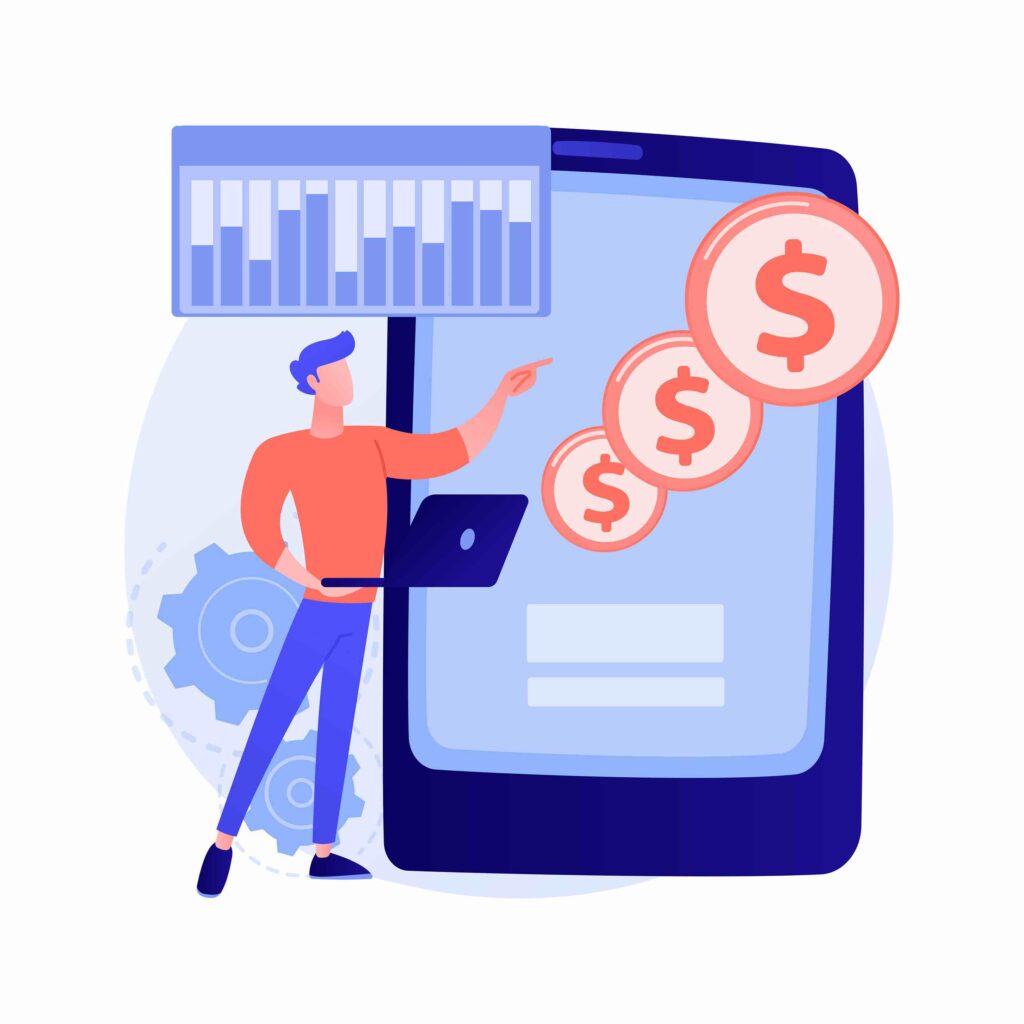 Step 8: About us section
Give your potential client the opportunity to get to know you and your team.
An "About us" page is especially useful if you are a new or small business. Use this section by adding short biographies or photos of the individuals who will be working on the project. Also explain what makes your company unique:
Do you have a special mission?
Does your company stand for something truly unique?
What's your company background in general?
💡 Tip: Authenticity sells! People want to buy from people, so don't be afraid to openly show the different personalities on your team.
Step 9: Client testimonials
Social proof is especially important for a new business.
You can assume that potential buyers are generally skeptical, especially if they have never done business with you before. For this reason, your prospective customers are more likely to trust other customers of yours than they are to trust you!
Therefore, incorporating customer referrals is extremely important for just about any business proposal.
By including recommendations from satisfied customers in your proposal, you can gain the trust of potential customers more easily.
💡 Tip: Lively and humorous testimonials from past clients can often help your company build genuine relationships with your new customers.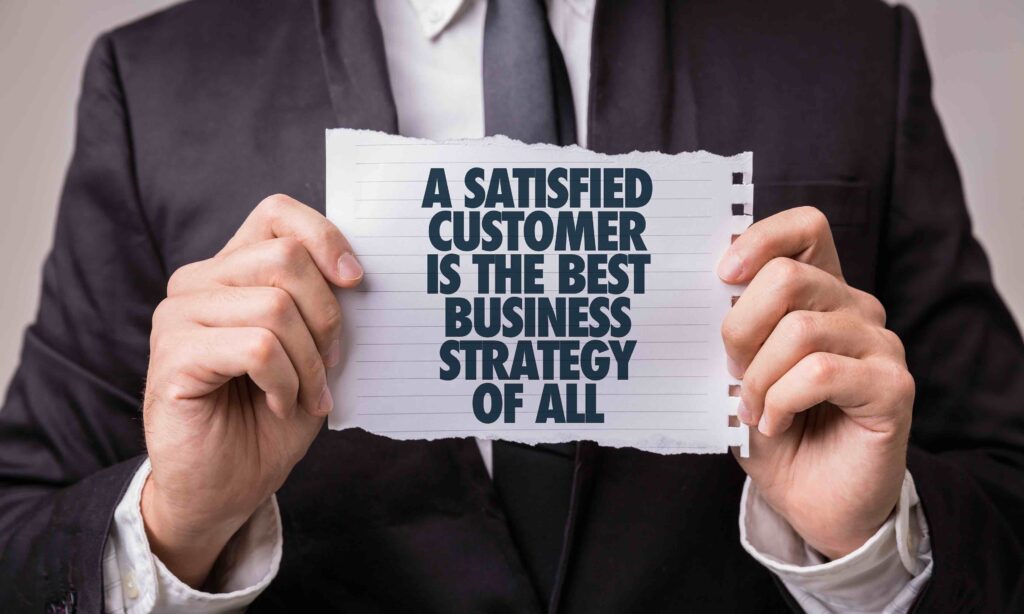 Step 10: Agreement
If you do not wish to create a legally binding contract, you should indicate this at the very end of your document.
This is important because in many legal systems, business proposals are considered legally binding contracts if they meet the characteristics of a contract.
This may not be ideal if, for example, your proposal is only intended to be a cost estimate. Therefore, if you do not intend your offer to be a binding contract, you should state this in your document.
📝 Note: In this case, don't forget to include a "call to action" (CTA) to allow for further negotiations.
On the other hand, your offer can also serve as a full contract with all terms and conditions. It is just important that you indicate this in the agreement.
Business proposal templates for different occasions
Now it's time for a business proposal example to vividly illustrate what we meant in our theoretical explanations!
To make your work easier, we have compiled two proposal templates from which you can choose the one that best suits your individual needs. We will conclude the section on business proposal templates with a neatly written business proposal example.
This way you can easily see how a perfect proposal should look like.
📝 Note: In our free business proposal templates, we don't go into every single step, but only the most important ones for each type of business proposal.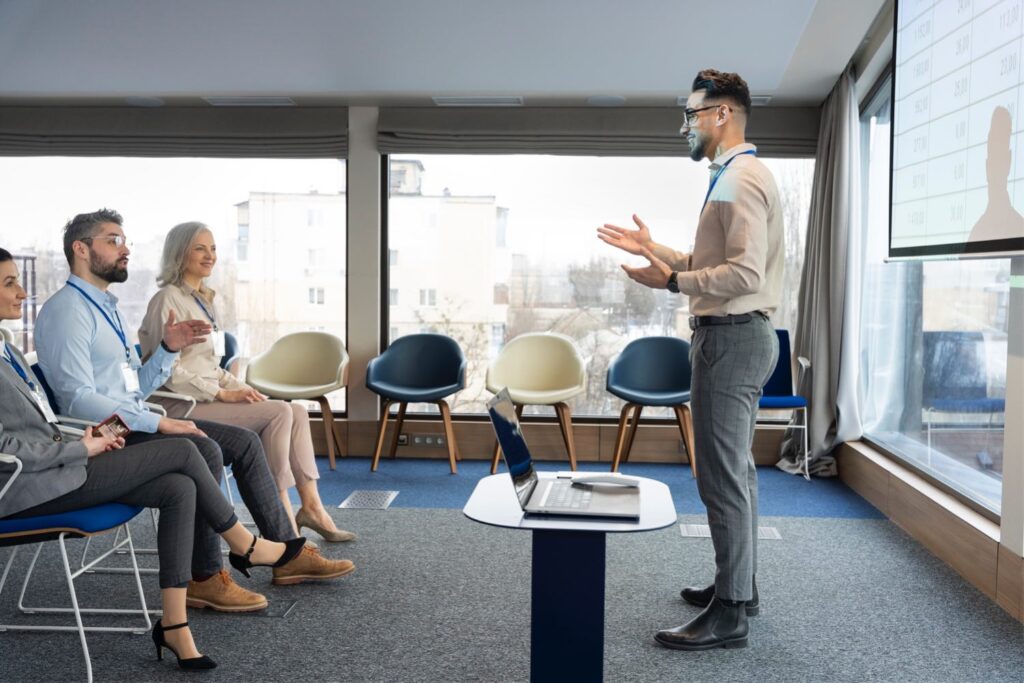 Business proposal template #1: Sales proposal
Title
[Title]
Prepared for: [Client name]
Created by: [Your name / company]
Cover letter
[…] is critical to the profitability and success of your company.
A well-designed […] is essential for managing daily chores as well as for enhancing efficiency, producing insights, and establishing a competitive edge.
At [company], we collaborate with our clients to put cutting-edge solutions into practice that produce audible results.
You can read more about the specific ways we would like to support your company in this proposal.
Executive summary
We recognize that [client's] primary objective is to […].
We suggest that [client] implement the […] solution to help achieve its intended results while successfully navigating market risks and hurdles.
About us
We at [company] have been in the [xy industry] for more than [number of years].
This experience enables us to come up with creative solutions to our clients' problems and assist them in […] successfully.
We have brought together a team of specialists who recognize the needs of our customers and develop workable solutions.
[Presentation of team]
We have won the trust of more than [number of clients] due to our reliable and effective services, which have enabled them to operate and expand successfully.
[List of clients]
Business proposal
The proposed […] solution will enable [client] to achieve the following goals:
[Customer's goals and needs]
We will provide […] to [customer]:
[Service(s) provided]
This […] package includes the following features that are of particular importance to [client]:
[Special features]
We can also provide additional onboarding, training and maintenance services. Ongoing consulting services are available as well.
The implementation schedule is as follows:
Phase One: […] completed by [dd-mm-yy].
Phase Two: […] completed by [dd-mm-yy].
Phase Three: […] completed by [dd-mm-yy].
We believe our solution will help [client] overcome the following obstacles and risks:
[List of challenges]
Pricing, ongoing maintenance, follow-up, and consulting fees are listed in the pricing plan below.
Pricing
In order to accommodate the various demands of our clients, we provide a variety of flexible pricing choices. Please select the plan that best fits your business:
[Pricing plan]
Terms of agreement
[Company] and [client] agree to enter into a mutual business agreement.
The terms of this agreement are as follows:
[Terms of agreement]
Signature
I, the undersigned of [client company], agree to the terms and prices set forth in [company's] proposal:
[Signature]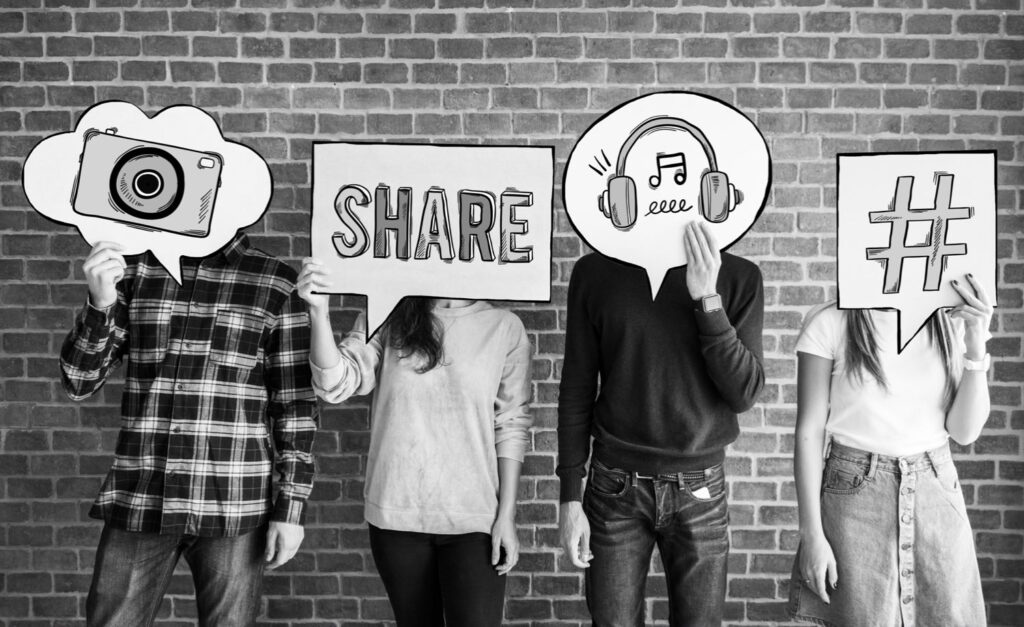 Business proposal template #2: Social media marketing proposal
Title
[Title]
Prepared for: [Client name]
Created by: [Your name / company]
Cover letter
Dear [client],
Thank you for considering [company] for your social media marketing requirements.
I'm delighted that we had the opportunity to get in touch so that my team and I could gain a clear grasp of your expectations. By utilizing social media strategies and implementing practices based on the results of a comprehensive analysis, researching social media trends, and applying specifics unique to [client], we are confident that we will achieve impactful results on your social media channels.
Our services include a complete social media marketing strategy that will yield highly successful results for your business.
If you have any questions, please do not hesitate to contact us about this project proposal.
Thank you.
[Sender]
Problem statement
Given that [client] is a leader in the field of […], [company] is eager to collaborate with them and take on the task of enhancing their present social media positioning.
As you are most likely aware, the best way to really stand out is through effective social media marketing. In my investigation, I discovered that [client]'s social media capabilities include promptly reacting to comments and producing insightful material to engage its current following.
[…]
The following points are current issues that [company] plans to address:
Use of more consistent:
Advertising campaigns
Infographics
Photo marketing
Analytics
Business proposal
We intend to interact with your followers on social media by posting company news, press releases, events, and other content.
We will also closely monitor and communicate any trends in the industry. This will help your target market take notice of you.
We use social media to interact with your followers and get them excited about the company itself and current events with promotions.
These promotions can run for as little as long as six months. We will study the results of each campaign and generate a report on their effectiveness.
The results of the campaigns can then be compared to repeat the most successful promotions.
Analytics will be provided on a daily and weekly basis and include aspects like follower growth, reach, demographics, comments, likes, shares, retweets, etc.
A report will be provided every three months that will include a summary of numerous actions and results.
We will schedule a meeting to go over the results and adjust our strategy as necessary.
Pricing
In order to accommodate the various demands of our clients, we provide a variety of flexible pricing choices. Please select the plan that best fits your business:
[Pricing plan]
Terms of agreement
[Company] and [client] agree to enter into a mutual business agreement.
The terms of this agreement are as follows:
[Terms of agreement]
Signature
I, the undersigned of [client's company], agree to the terms and prices set forth in [company's] proposal:
[Signature]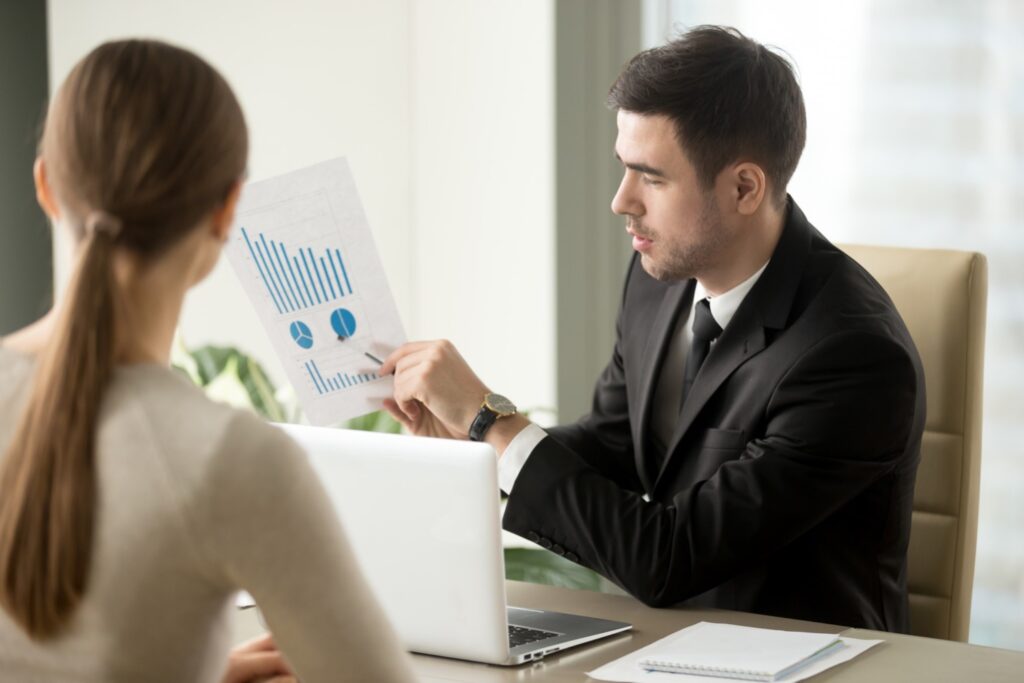 Well-written business proposal example
In our final business proposal example, we would like to focus on showing the importance of creating a well-worded proposal.
So this is not like the business proposal templates above, where we focused primarily on structure, but instead targets excellent formulation. Remember, a good proposal doesn't have to be super long and elaborate! Short, to the point bullet points and visual accents are often plenty enough and may have an even bigger impact.
This example is a marketing proposal that focuses on a content marketing strategy for HR.
2022 HR Content Marketing Plan
Executive summary:
Objectives:
Improve overall monthly customer acquisition by 10%.
➜ KPI: Number of sign-ups resulting directly from blog posts.
Improve overall monthly customer retention by 15%.
➜ KPI: Customers return to the service regularly within 7 days.
Business proposal:
Plan for quarterly production of content falling into three categories:
Case studies: Here we take a detailed look at specific enterprises that have already tried something new in the field of HR management. The goal is to find out how change translates into success and what might need to be avoided.
Tips: Here we showcase our own thought leadership, insights and expertise by presenting HR hacks: Small tactics that improve work life, productivity and employee retention, for example.
Guides: This is where we highlight HR-related processes and show how our product simplifies those procedures. The point is not only to demonstrate our authority and expertise, but also to show that our product makes a multipurpose solution.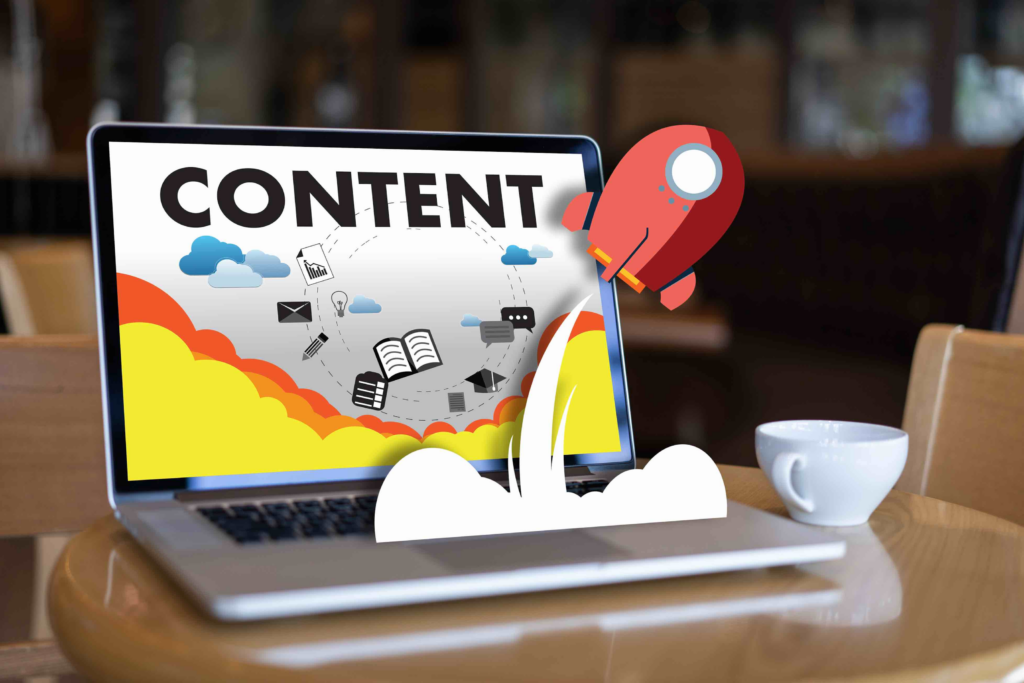 💡 Tip: It can be useful to take a look at additional business proposal examples that relate to your industry.
How to write a business proposal – conclusion and helpful tips
Forget the standard business proposal – with this guide, you should now be able to write a truly successful business proposal!
Yes, proposal writing may seem a bit tricky at first, but once you get the hang of it, nothing should stand in your way of winning a client!
We hope we've been able to give you some inspiring business proposal ideas for an offering, and we'd like to conclude with a few helpful tips before you start drafting your own:
A proposal document should always include an executive summary, customer testimonials, and a transparent pricing structure.
Feel free to use customer relationship management tools or even proposal software tools to help you create business proposals.
Make sure to clarify the terms and conditions with your legal team before sending the proposal to the customer.
📝 Note: Did you know that we have more free templates and examples for you in our "Career Advice" guide? Check out the "Career Starters" and "Job Application" sections to to find useful free samples! Taking a look at "How to write a formal letter" might also help you get started!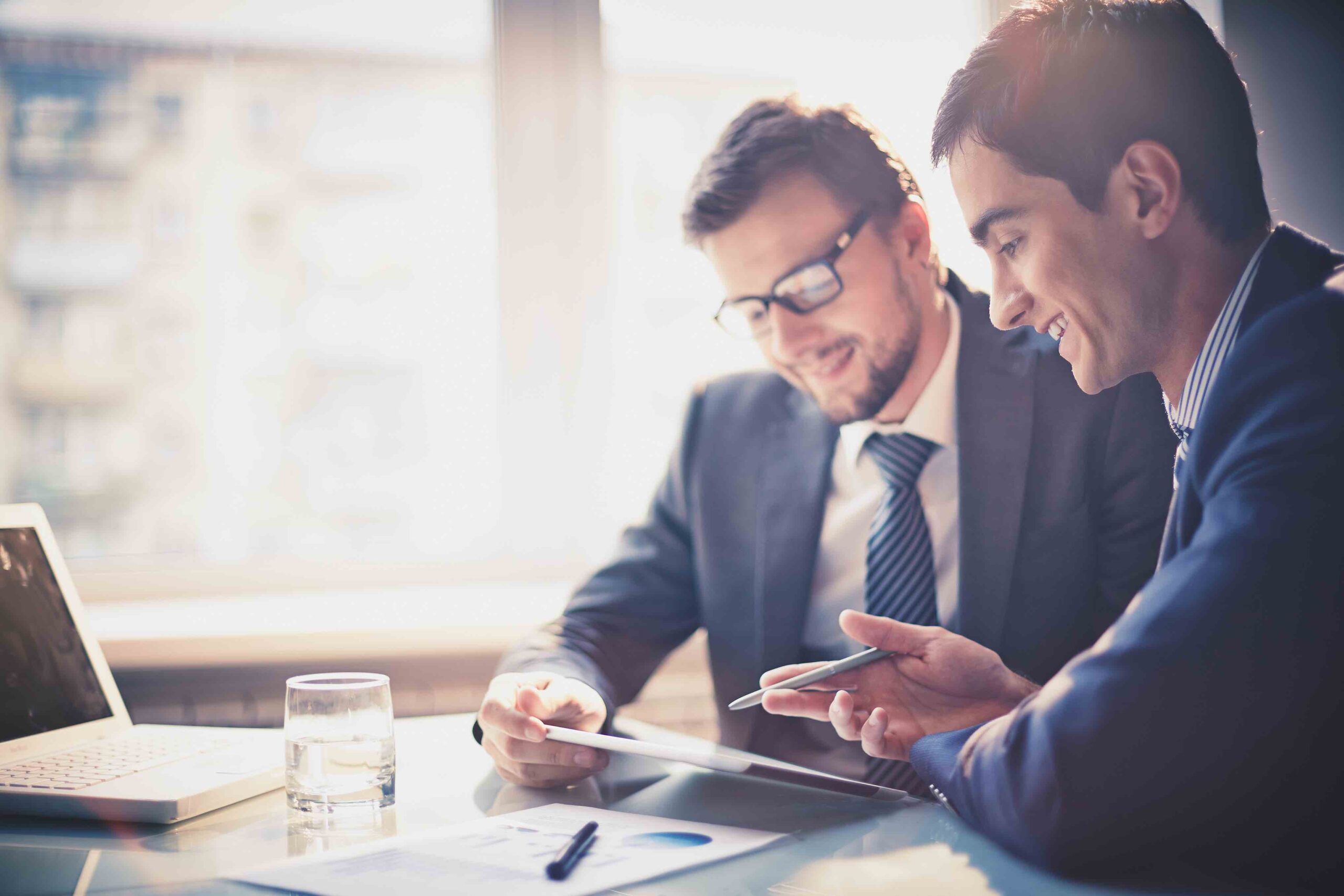 How to write a business proposal – FAQ
What are the various types of business proposals?
In addition to an unsolicited business proposal, there are also formally and informally solicited business proposals.
What are the 10 steps in writing a business proposal?
If you write business proposals, you may use these steps as a guideline: Title page – cover letter – table of contents – executive summary – problem statement – proposed solution – pricing – about us – testimonials – agreement.
How do you start writing business proposals?
A good business proposal does not start with the proposed solution right away, but gives the reader an overview of the entire document by presenting an executive summary.
What is the difference between a business proposal and a business plan?
A business proposal outlines a price offer and a call to action to a prospective client. A business plan, on the other hand, is a statement that documents, for example, the roadmap for starting a new venture.