Did you know that certain networking strategies should be a part of any job search?
You can connect with a company you are interested in not only by sending their hiring managers your job application, but also by building relationships in the industry. There are several ways to do this, and in this article, we've compiled the best networking tips (✨ including useful advice on how to find new contacts and start a conversation) for you.
Be sure to read on to avoid making your professional endeavors dependent on a chance encounter (✨ and also know that you don't have to meet as many new people as possible to get interviews for jobs you're interested in).
How can you make your job search more successful?
Have you been looking for a new job for some time, and your job search just hasn't been very successful?
Even if you have the relevant skills, it can be difficult to find a vacancy in your field, perhaps because there are simply many other candidates or the "good" jobs are passed under the radar. That's why building relationships in a professional environment is a great way to advance your career.
Yes, we know: Although networking can be one of the most successful ways to find a new job, it may also sound intimidating at first. If you're new to networking and don't know anyone who can help you, start out slowly and connect with people in the field you're interested in online!
💡 Tip: You definitely don't have to attend various in-person networking events from the start.
📝 Note: We will go into more detail about the different strategies for building professional relationships in a bit.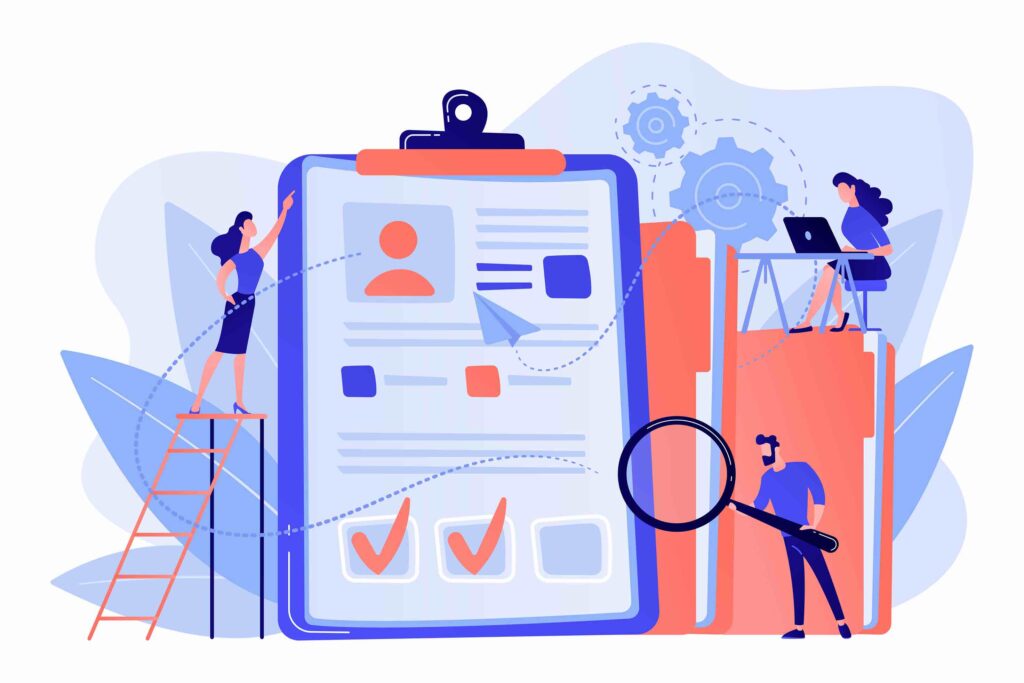 Why is it important for job seekers to build a job search network?
Networking (or building a job search network) allows you to leverage personal and business connections instead of relying entirely on your resume.
Of course, these contacts are not only beneficial to you, but also to employers. After all, they often like to use networks to hire new employees. In fact, because they can learn more about a candidate's qualities through their connections, recruiters frequently favor applicants who have contacts in their shared network.
Therefore, increasing your professional network might significantly enhance your chances of finding an open position that's just right for you.
Did you know that searching for a new job through networking can also give you access to opportunities you may not be able to find in an online job search? Many firms don't post job openings on their websites. Instead, they may rely on internal networks to let potential applicants know about a vacancy.
This suggests that having a strong professional network can open doors to employment opportunities that aren't available to the public.
4 highly effective networking and job tips
In this article, we've decided to focus on two ways to effectively network with people of interest.
The first way is by making online connections on social media. This is a great option for meeting other people in the same field, regardless of where they are from. The second approach is a more "traditional" way: networking offline and in person to build a relationship with professionals in your industry.
🚀 Let's take a closer look at these opportunities!
How to network on social media to get a job
Yes, having an up-to-date LinkedIn profile is great, but you should also make sure to:
1️⃣ Interact on social media
By reaching out to new contacts and the people in your network on a regular basis, you'll have the greatest impact and may even find a contact that leads you to your dream job!
To use social media effectively, you can go on LinkedIn, for example, and browse the site by various criteria, such as the job title. Then, you can reach out to professionals at your target companies to get in touch with them.
💡 Tip: Don't send them your resume right away (in fact, wait until they ask you), but do more research to find out if the company would generally be a good fit for you.
You can also go to sites like Twitter and follow your favorite companies there. Connect with recruiters by liking, retweeting, and also engaging with their posts. You can reach out to them directly as well.
⚠️ Keep this in mind when communicating with recruiters about your job search online:
By explaining the reason for your contact, give your communication context.
Be succinct, but make sure your point is clear.
Always bring up a few shared points of interests.
Before sending, proofread the entire message.
📝 Note: Very often, a "simple" conversation can lead to an interview! For example, in this format:
2️⃣ Ask for an informational interview
It may also be helpful to ask a company for an informational interview.
📝 Note: Such an interview is all about getting to know the company and potential recruiters, not about applying for a job with them.
Even if it is not directly related to your job search, the informational interview can be a great way to expand your network and meet interesting contacts in person.
💡 Tip: The most important thing to do during such an interview (which will most likely be conducted via phone or video call) is to ask meaningful questions.
You should always be aware that you are not inquiring about a position. Rather, it's about establishing rapport and building a professional relationship. A good way to break the ice is to approach the interviewer and ask them how they got into the industry, for example!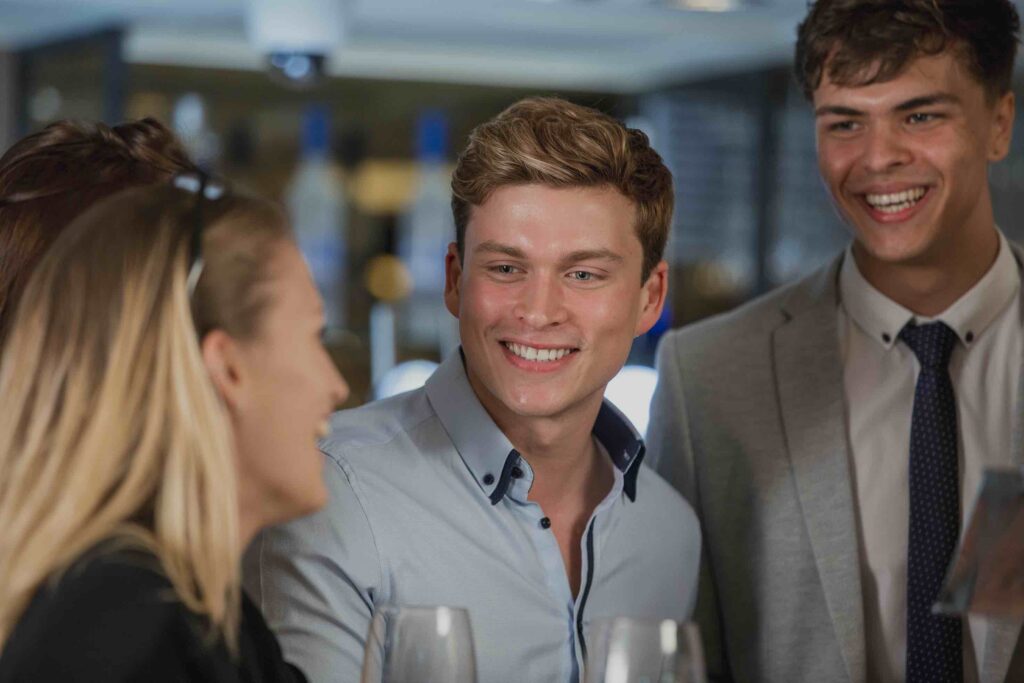 Offline networking tips
Your personal acquaintances, like friends and family, or even neighbors, can also be a great point of contact when looking for new professional connections:
3️⃣ Build a professional network
To build a professional career network, you should develop your "offline" contacts.
Get in touch with anyone who can provide you with information and perhaps even job leads. With the right connections, you may also be able to gain insight into other career fields and companies.
📝 Note: This is especially important if you are aiming to make a career change.
Your current co-workers can also be an excellent resource if you want to advance your career. It doesn't matter how long you've been in your current job, networking with colleagues can always help you grow in your current position or gain information that can help you transition into a new role. Some people may even be able to alert you to new opportunities and jobs that may not be widely advertised.
📝 Note: That's why it's so important to mention your passions, interests, and skills even in casual conversations at work, because who knows where that could lead you!
4️⃣ Attend networking events
Is it sufficient to simply exchange business cards at job fairs to help you land a new position?
Definitely not. When you attend networking events, be sure to strike up conversations with plenty of people who share the same interests as you.
📝 Note: That doesn't mean you should chat up every recruiter who crosses your path, but you should also connect with other event attendees.
After all, who knows what kind of professionals you might meet there? Maybe even someone who isn't "helpful" to your search in the first place, but can give you amazing advice?
💡 Tip: Send a contact request on social media as soon as possible after getting to know each other, and include a personalized message. Then check in periodically with comments on posts or just to see how the person is doing.
How to network for a job – conclusion & tips for your job search
We hope you've taken our tips to heart and that your networking efforts will soon pay off!
There are a few more things you should always keep in mind when contacting professional acquaintances or even potential employers:
Invest enough time and then be patient.
The extra time you invest online or at events can truly help you build new relationships and get to know potential employers. If they don't get back to you straight away, remember that building strong relationships can take its time.
When you talk to your connections, simply let them know that you are in the market and would be happy for them to let you know about potential opportunities. Don't just ask for a vacancy, as that could be perceived as rude.
Most importantly, follow up with new connections after the initial contact. This may consist of thanking them for meeting you or asking further questions. This way of networking can indeed strengthen the relationship immensely.
💡 Tip: Are you looking for more career advice? Check out our comprehensive guide for career starters, or take a quick peek at our job application guide!
How to network for a job – FAQ
What do you say when networking for a job?
Not sure how to approach someone when networking professionally? Try the basics! Simply show interest and ask what someone does or inquire why they are attending the event. If you're networking online (e.g. with co-workers), you could ask them for a quick professional coffee chat on a topic of your choice!
Does networking really work to get a job?
Career advice: Any career expert will tell you that networking is essential if you want to advance in your career. That's because an extremely high number of jobs are filled through networking (and they're very often not even advertised at all).
Is it advisable to network for a job via email?
While you can indeed reach out to hiring managers via email to make connections, or even inquire directly about vacancies, this may not be the smartest way to go. It's better to contact them personally (via social media or a networking event).