Even if you don't have a lot of teaching experience, a strong teacher resume can give you an edge over other applicants by highlighting your very own distinct teaching skills.
With this guide, we want to help job applicants who aspire to be great elementary school teachers, middle school teachers, or even high school teachers! We have created teacher resume samples for each teaching position, and you can simply choose the teacher resume template that best suits your personal needs.
Especially if you are still building your classroom experience, it makes sense to highlight other key skills, such as excellent communication skills. Moreover, you can for example use your resume objective to emphasize your teaching skills, but more on that later!
First, let's dive into the topic with a little overview of the different teacher jobs.
What are the types of teaching positions?
There are various teaching jobs, and each of them has different job duties:
Preschool teachers convey the foundations of language, numbers, shapes and colors, as well as basic social skills.
Elementary school teachers teach academic fundamentals to students from kindergarten through 5th grade. They help the kids develop social skills in addition to reading, math and writing skills.
Secondary school teachers instruct students in grades seven through twelve. They specialize in one subject area, such as English, and work with groups of students during each day.
Postsecondary teachers educate students in a number of academic subjects that go beyond the high school level.
Special education teachers modify general school lessons and teach students with mild to moderate disabilities in a variety of subjects.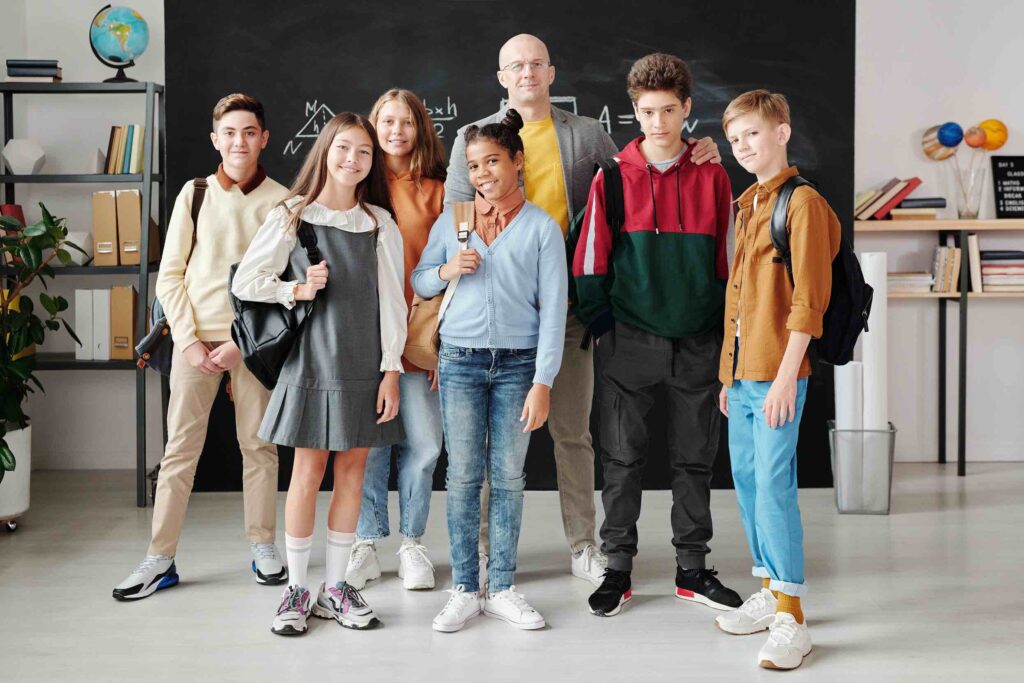 What are some must-have teacher resume skills?
Professional teacher skills should be emphasized in teaching resumes.
This means in addition to relevant hard skills you should also always highlight specific soft skills (as a math teacher, for example, you should list not only your mathematical knowledge, but also skills like problem-solving and logical thinking). Your teaching experience should also fill a section on your teacher resume, as well as references to your classroom management skills, for example.
Other key skills that should not be missing from a teaching resume (in bullet points):
#1 The ability to develop lesson plans
Detailed lesson planning skills
The ability to create an engaging curriculum
The ability to manage classrooms, including diverse student achievement levels and learning styles
#2 The proficiency to prepare students for exams
The adaptability to the level of the students
The knowledge of different teaching methods
Very good organizational skills
#3 The capacity to foster student engagement
Outstanding communication skills to encourage student participation
Great relationship-building skills
Excellent interpersonal communication skills
#4 The skill to assess student performance
The ability to improve test scores
Strong problem-solving skills
Empathy
💡 Tip: Skills that are also helpful: Active listening, Google Classroom, and communication with parents.
📝 Note: Take a look at our Soft Skills section to learn more about the 10 most important soft skills in the workplace and how you can improve your critical thinking skills at work!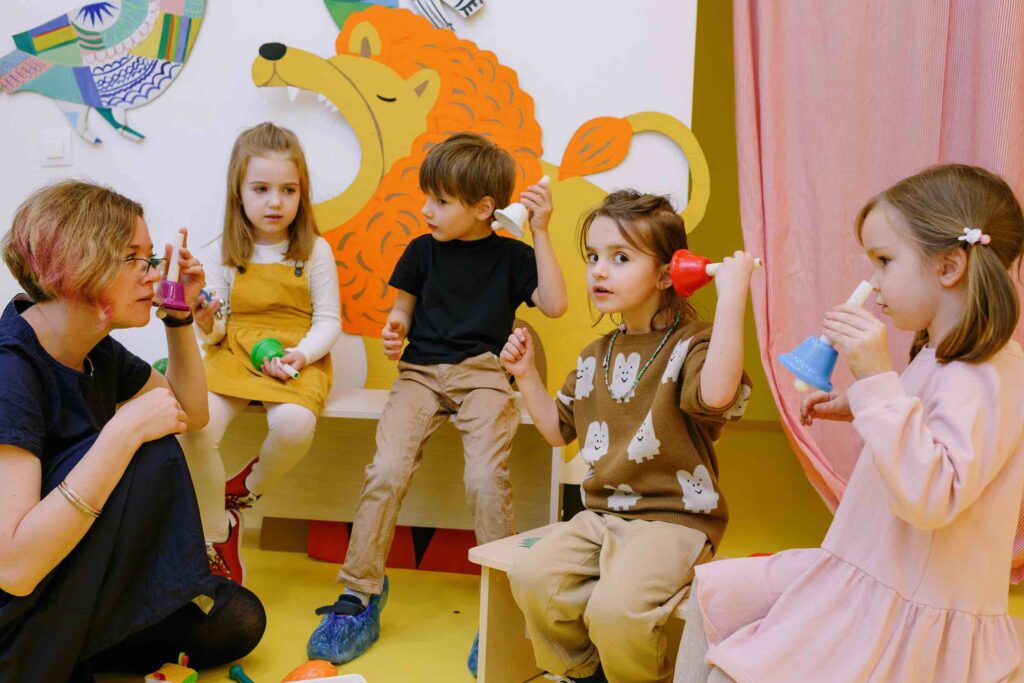 What are important action verbs for teacher resumes?
If you want to catch the hiring manager's attention right away, try using specific action verbs when describing your skills.
For example, you could write, "Assessed the progress of more than 120 students during the semester and worked closely with other staff members to effectively plan and coordinate work," or "Developed stringent lesson plans and prepared students for tests and exams."
More examples of action verbs for teaching resumes
Analyze
Evaluate
Create
Instruct
Organize
Support
What should be included in a teacher resume objective?
A professional teacher resume summary or objective highlights your core competencies right at the beginning of your resume.
It's important to put some thought into this paragraph because it can determine whether hiring managers read your whole teacher resume or set it aside. One tip to grab their attention right away is to match your resume objective with the job description.
By responding directly to the job description, you are demonstrating that you have researched the opening and that you believe the teaching position is a good fit for you based on your teacher skills and professional experience.
Take a quick look at this illustrative example:
Example of a teacher resume summary/objective
"Empathetic and thoughtful high school substitute teacher with experience managing classrooms in grades 9, 10, and 11. Recently earned state teaching certification in XX. Supervised classes at XY High School for 130 days in a 150-day span. Would like to utilize teaching skills and results-oriented lesson approach to become the new math teacher at XY High School."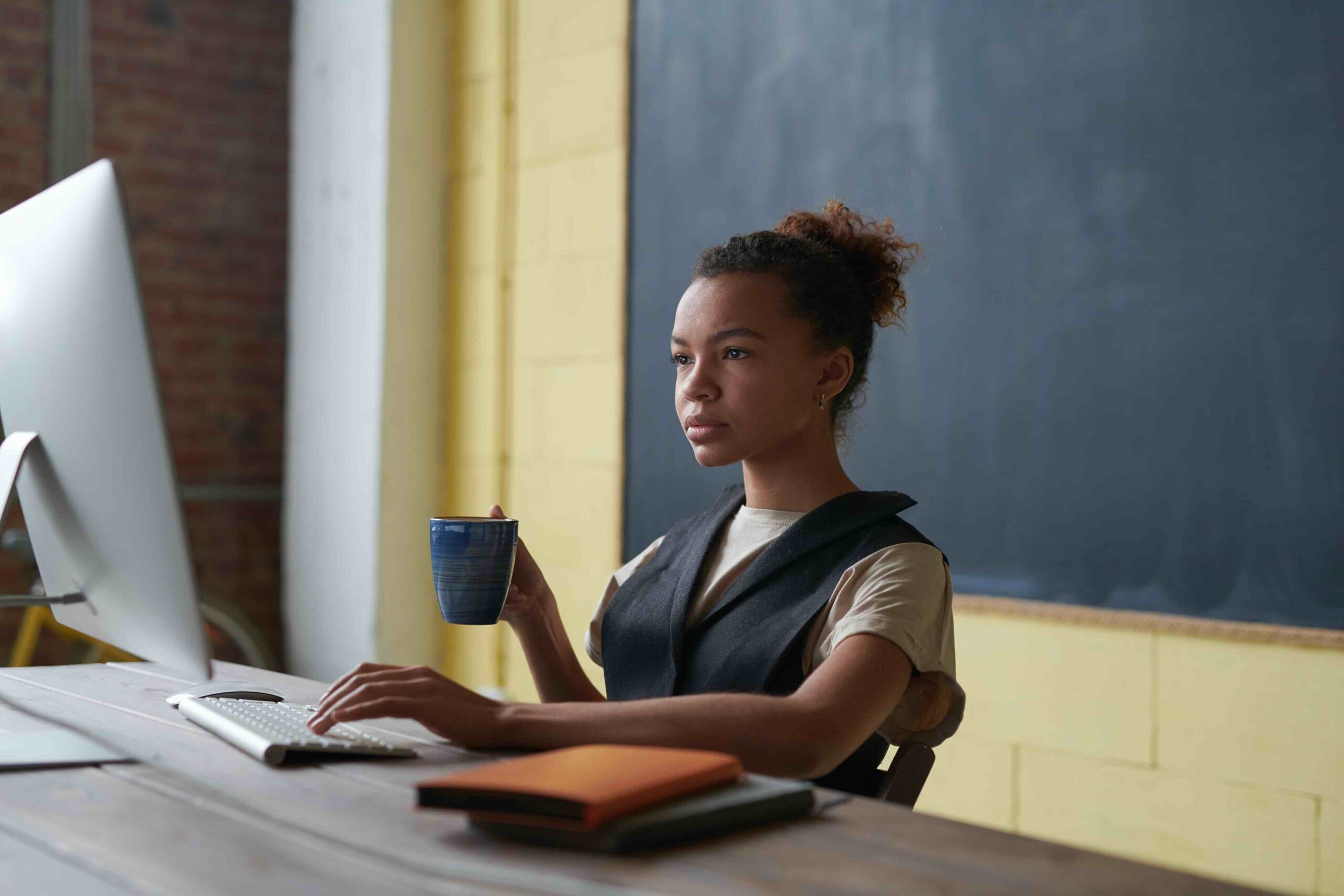 What is the right teacher resume format?
Before we share our teacher resume examples with you, let's briefly address what the right format for a teaching resume is.
Generally, a reverse chronological resume is most common for teacher resumes. This means that you start with your most recent position and then go backwards. If you're wondering how far back you should go on your resume, the rule of thumb is 10 years. Note that a more focused resume will likely set you apart from your competitors.
This also means that rather than simply listing your employment history, you should place a special emphasis on particular educational achievements that you have made throughout your career.
If you still lack professional experience, you can highlight projects you have done during your training and how you have interacted with students so far. This may include being an English teacher for the kids in your neighborhood!
Altogether, your resume should reflect how much you love student teaching overall.
Teacher resume examples: HR-approved resume templates
Each teacher resume template is designed to serve as inspiration when writing your own resume.
Simply choose the teacher resume sample you prefer. So, if you need an experienced teacher resume, don't refer to our elementary school teacher resume example, which is for an entry-level teacher, but check out another sample!
⚠️ Please be aware that we have omitted personal information such as contact details or college names, but of course these should be included in your own teaching resume.
📝 Note: Have you already checked out our guide for career starters? It provides great tips for your first job and also explains how you can negotiate your salary, for example!
Teacher resume example #1: Elementary school teacher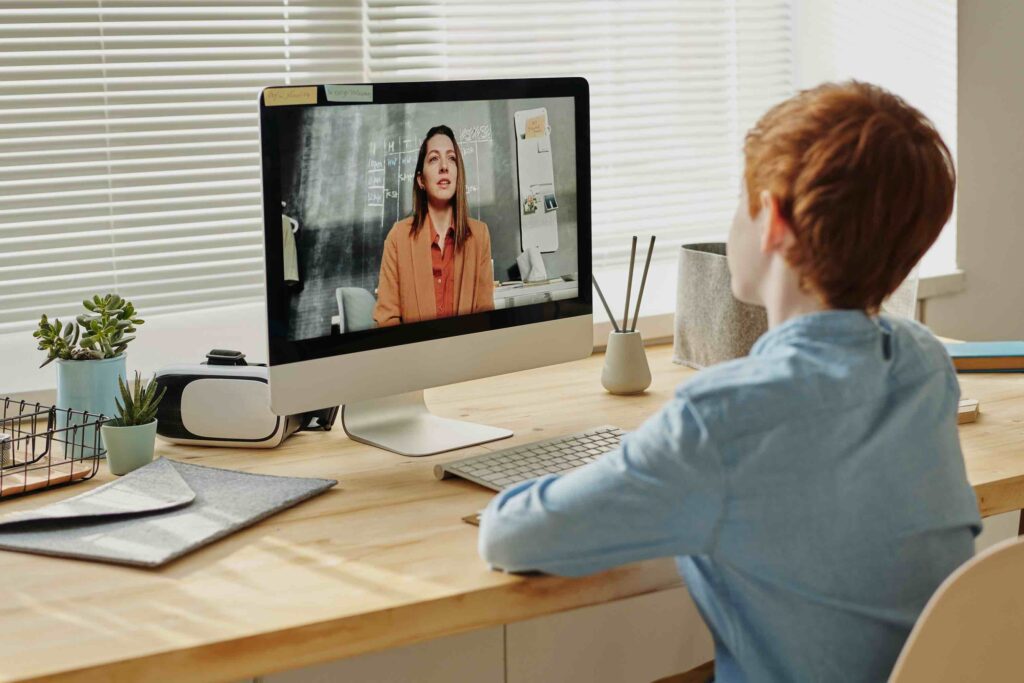 Katy Mars
University graduate with in-depth knowledge of literature, writing, and teaching in elementary schools. Experienced in teaching writing techniques to school children and planning creative workshops.
Important areas of knowledge
Ability to adapt teaching methods to meet the needs of diverse students
Demonstrated proficiency in writing both prose and poetry
Experience using technology in the classroom
Strong written and verbal communication skills
Education
Bachelor of Science in Elementary Education
Relevant coursework: Early childhood development, creative writing, classroom management
Professional experience
Substitute teacher
Assisted in class by preparing materials and selecting poetry readings.
Provided feedback on student essays and poems with the assistance of the teacher.
English tutor
Created writing exercises and grammar games for elementary school students.
Helped groups of up to 15 students with creative writing assignments.
📝 Note: Don't forget to add credentials to your teacher resume, such as your state's professional certification for educators.
Teacher resume example #2: Middle school teacher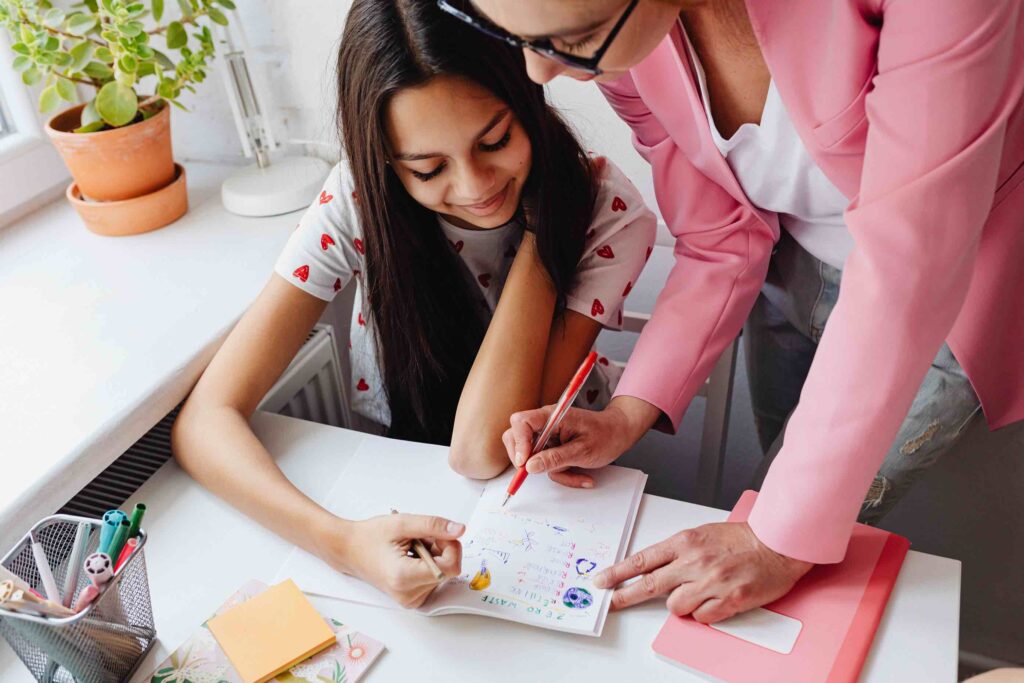 Jenny Jackson
Middle school history teacher with 3 years of experience. Looking for a position at XY Middle School where I can apply my knowledge of the subject to spark a passion for history in adolescents. Aiming to engage reluctant students, facilitate communication with parents, and collaborate with fellow teachers.
Professional experience
History teacher
Provided 1-1 mentoring opportunities for students to develop and pursue educational goals.
Taught 95+ students per year while ensuring subject matter is covered.
Improved standardized test scores for 30% of students.
Implement individualized lesson plans.
Teaching assistant for history
Received a Teaching Assistant Award for outstanding performance and student support.
Assisted in supervising a class of over 25 students.
Collaborated with principal to utilize strengths and different approaches to improve student retention by 10%.
Raised average final exam grades by 20% by conducting review sessions.
Education
Master of Arts in Liberal Arts (GPA: 4.0)
Projects
History mentor
Coached students on important, less-known historical events.
Skills
Mastery of the subject
Captivating curriculum
Lesson planning
Critical thinking
Student assessment
Classroom management
Teacher resume example #3: High school teacher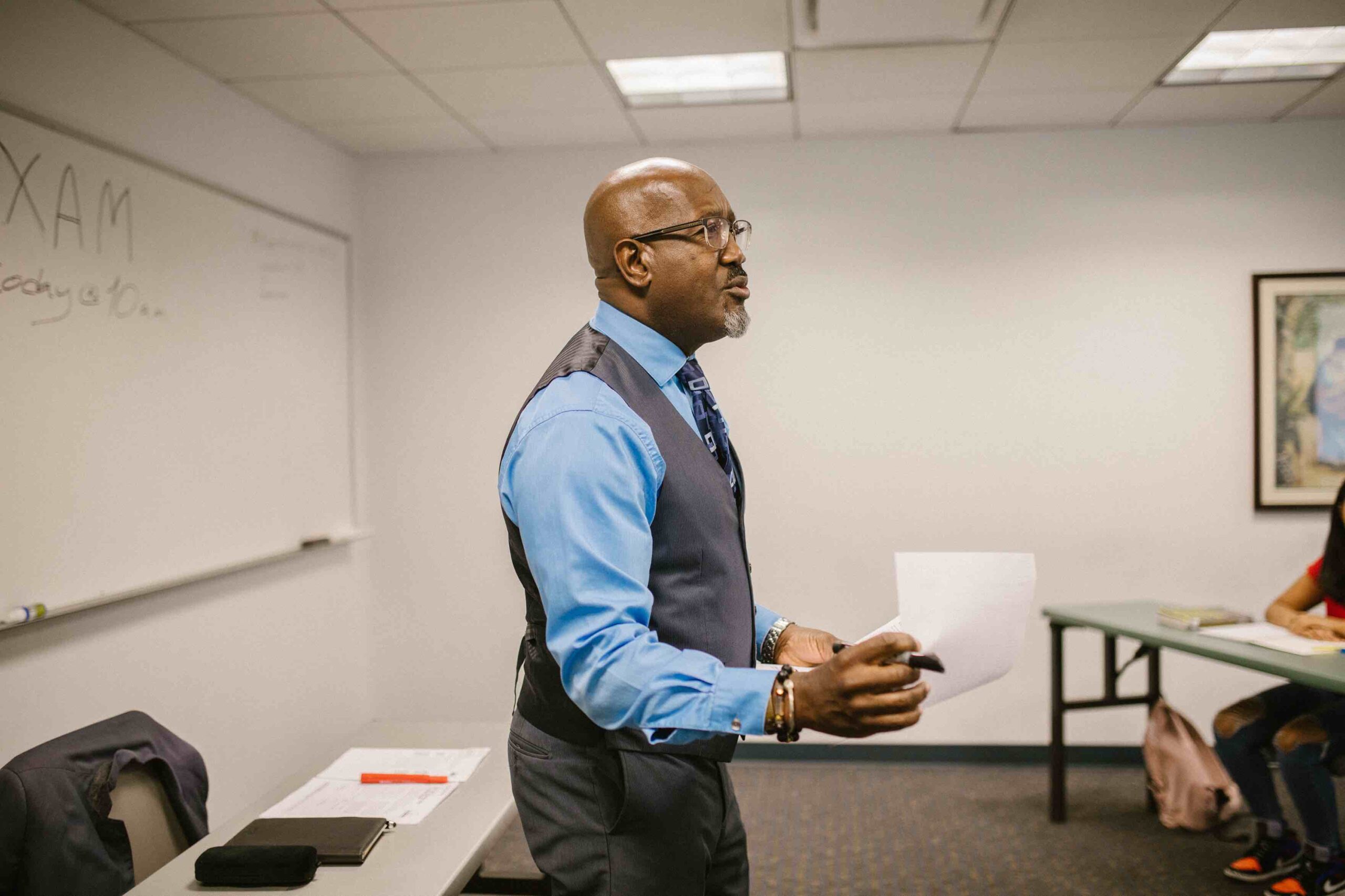 Max Peters
Student-focused teacher with over 15 years of classroom experience, educating youth in 11th and 12th grade with advanced teaching methods. XY Certification and XY Board of Education License. Improved college admission success rate by 25% in the last 3 years. Looking to become the next chemistry teacher at XX High School.
Work experience
High school teacher – chemistry
Key skills and responsibilities
Taught chemistry to 150+ 11th and 12th grade students per year.
Created comprehensive lesson plans and interactive presentations using applicable software.
Conducted laboratory activities based on scientific methodology and real-world chemistry applications.
Promoted a positive learning environment through team building activities and positive reinforcement techniques.
Major accomplishments
Awarded Chemistry Teacher of the Year for introducing innovative teaching techniques.
Student high school teacher – chemistry
Key skills and responsibilities
Taught 10th grade students chemistry according to the state curriculum.
Introduced modern teaching methods based on technology and practical lab tasks.
Arranged field trips to help students broaden their horizons and get involved in scientific projects.
Organized extracurricular activities for underprivileged high school students.
Education
Master of Science in Comprehensive General Chemistry
Skills
Lesson planning
Classroom management
Knowledge of the curriculum
Familiarity with laboratory equipment and procedures
Collaboration and teamwork
Critical thinking skills
Languages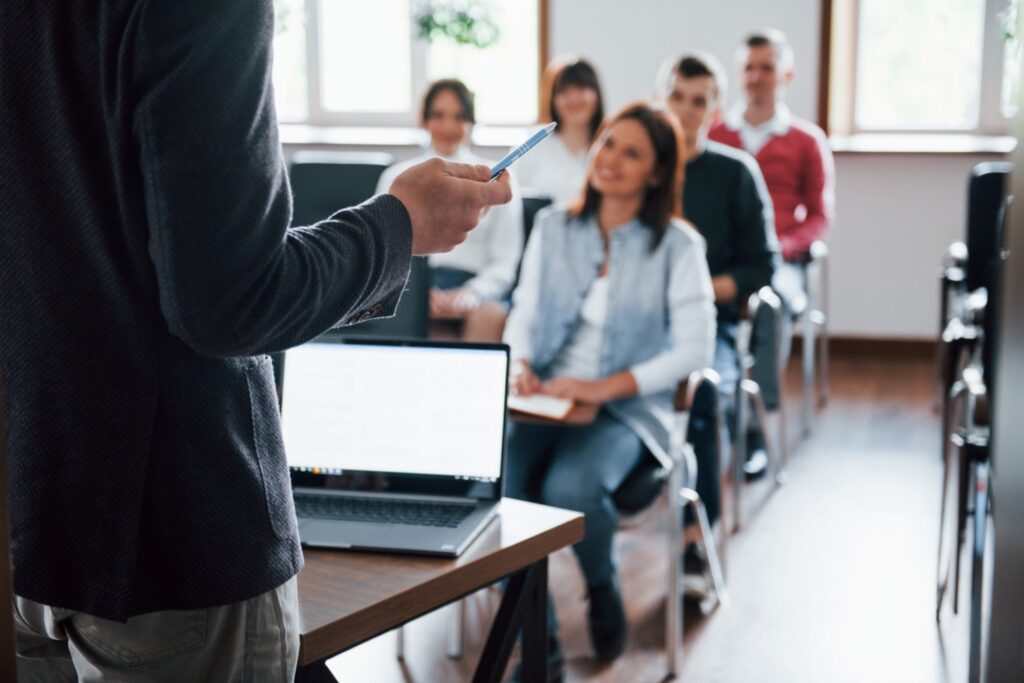 Have you found the perfect resume template for your personal needs? Hopefully! To conclude, we would like to give you some more tips for a great teacher resume before you apply for that teaching job of your dreams.
Teacher resume – conclusion
Even if you don't have any professional experience, you can still add internships, student teaching positions, volunteer work, and other special projects that highlight soft skills such as empathy or communication.
Of course, hiring managers like to see relevant skills, such as teaching skills in a particular subject, so it's important to highlight these on your resume. Therefore, in your Education Section, specifically emphasize what you studied and what courses would be a great fit for your dream job at a particular school! It always helps to refer to the job description as well.
If you have a lot of teaching experience, for example, as an English teacher, you can mention your most important achievements in the resume summary at the very beginning.
💡 Tip: Check out our high school and middle school teacher resume template if you are an experienced teacher.
Keep in mind that even though you could list all of your accomplishments over the last ten years, you should stick to the job description of the position you are applying for and keep your resume short and concise. That way, nothing should go wrong!
⚠️ Attention: Cover letters matter, especially for teaching positions. A teaching resume is great, but it can't highlight your unique personality and describe how impactful your teaching style is. Therefore, you should put a lot of effort into this document as well.
💡 Tip: If you're not sure how to start writing a cover letter, read our comprehensive guide and learn how to build the perfect cover letter!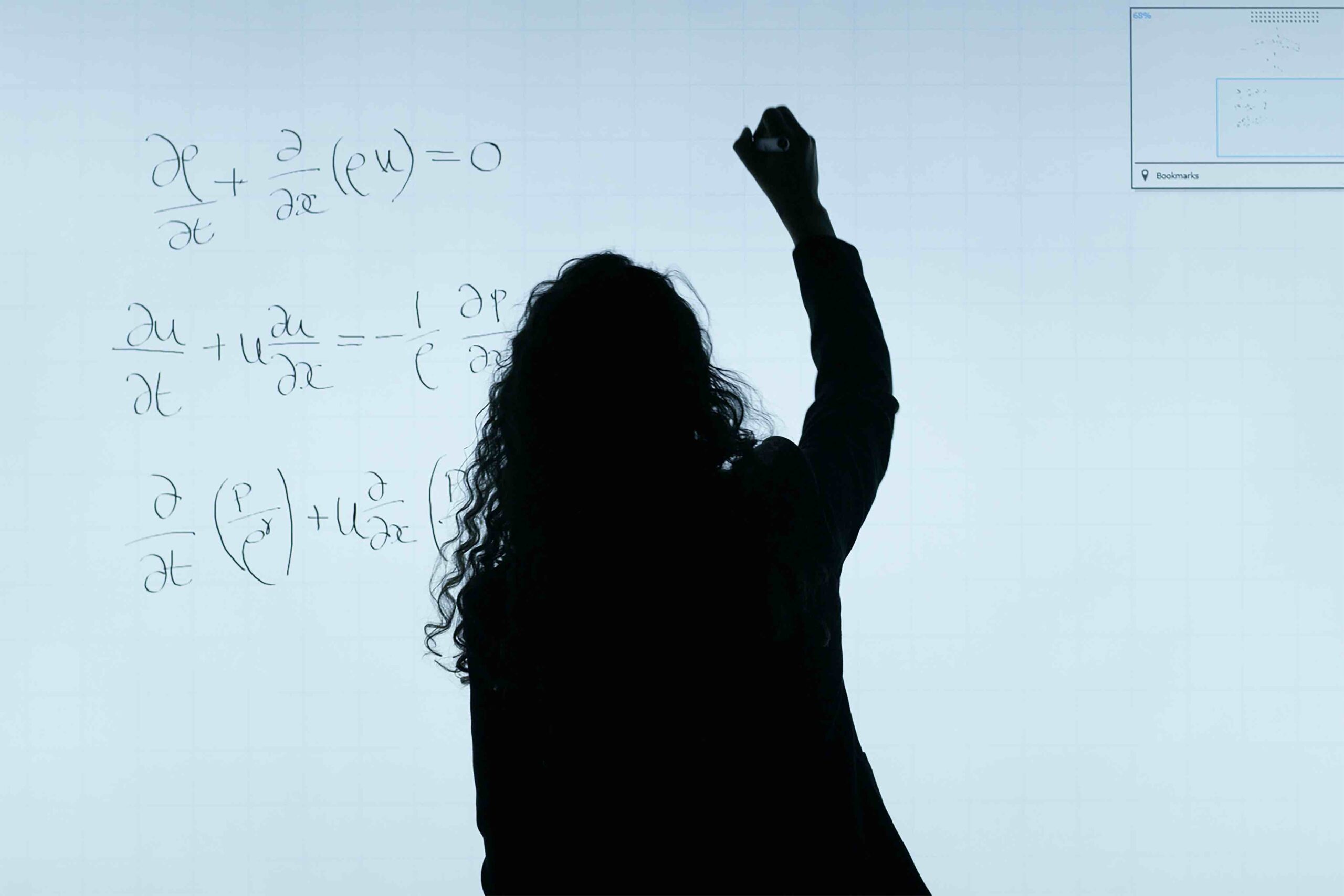 Teacher resume – FAQ
How do I write a resume for a teaching job in 2022?
Choose an appropriate resume format and make sure your resume can be scanned by Applicant Tracking Systems. Tell hiring managers about your past work history and key skills, but stick to the job description.
What is the best resume format for teachers?
The reverse chronological resume works well for those with teaching experience. Otherwise, you can opt for a functional resume if you are applying for a teaching job for the first time.
How to write about yourself in a resume for a teacher?
Highlight your education and emphasize your most important skills. Always list accomplishments, not only tasks, and use relevant examples.