"Can I wear jeans to my workplace?"
You may be asking yourself this question right now, as your first day of work at your new employer is just around the corner. Or perhaps you have just graduated from college and want to apply to different companies in the future. It's always a good idea to learn about the dress code in various fields and industries. So, if you're reading this article, you've come to the right place!
Not only will we inform you about appropriate business casual attire in any field, but also what type of clothing you should avoid in a modern workplace. Last but not least, we specifically address the topic of business professional vs. business casual attire for job interviews. This will help you make a great impression on your future employer right from the start!
What does dressing business casual imply?
A "business casual" dress code often causes confusion among employees.
This is because there is no clear, uniform definition for it. Depending on the company and industry, business casual can look very different. One thing is probably clear to everyone: Shorts, a T-shirt and flip flops are too casual. However, a full suit is too formal. Many people automatically know this, even if they haven't yet researched business casual in detail. When in doubt, it's usually better to dress too formally than too casually.
Typically, business casual attire means no shorts, no short skirts, and no neckties, either. By the way, this style of dress is more about avoiding the "Don'ts" than following very specific "Dos."
That's because business casual outfits can and may vary depending on style and preference.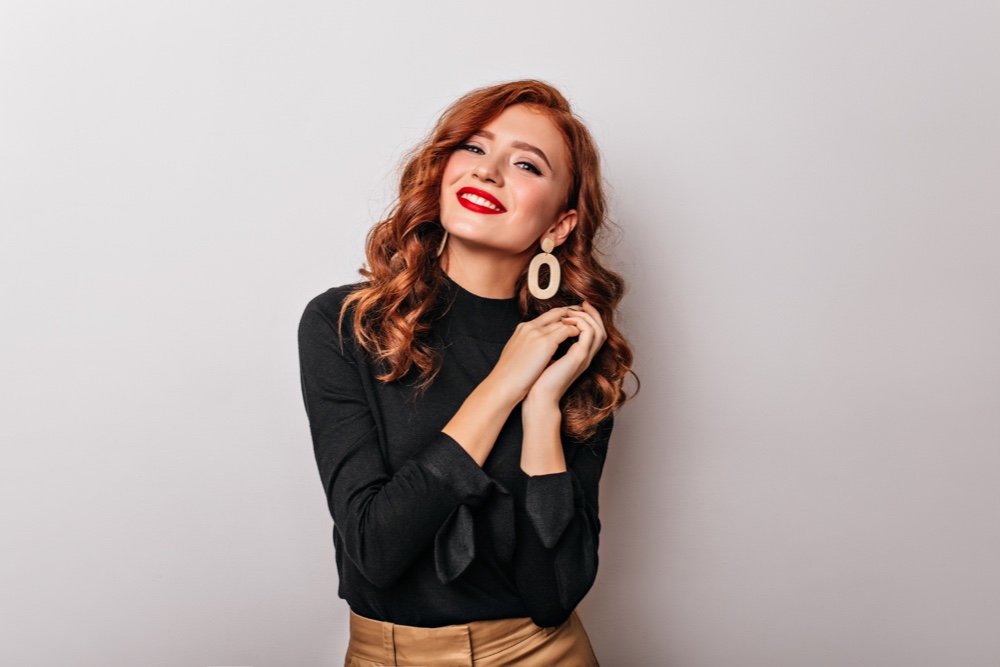 What is business casual for women?
Women's business casual attire can vary depending on the profession. However, standard business casual for women usually consists of the following items:
Pants: Dressy pants, such as chinos or suit pants, are always appropriate. In some offices, jeans may also be suitable! However, you should make sure to choose rather subtle colors and, for example, no ripped jeans.
Skirts and dresses: Knee-length dresses and knee-length skirts are always a safe choice.
Tops: A well-fitting, flowing blouse or button-down can always be worn.
Blazers: Blazers are a very universal element of business casual attire, as they are simply a classic, professional piece of office attire.
Shoes: Flat shoes or loafers and closed-toe shoes are usually best for a business casual style.
What are business casual outfits for men?
For men, not wearing a tie is already "business casual" many people think. Is that true? Let's find out:
Pants: In some modern offices, jeans are the standard when it comes to business casual for men. However, stick to suit pants or khaki pants for starters.
Shirts: A long-sleeved button-down shirt or a collared shirt are always appropriate. A sport coat worn on top is also fine.
Blazers: A jacket or blazer can sometimes be worthwhile if you have an important appointment and aren't sure if a button-down shirt alone looks too casual for the occasion.
Shoes: Loafers or dressy shoes can always be worn.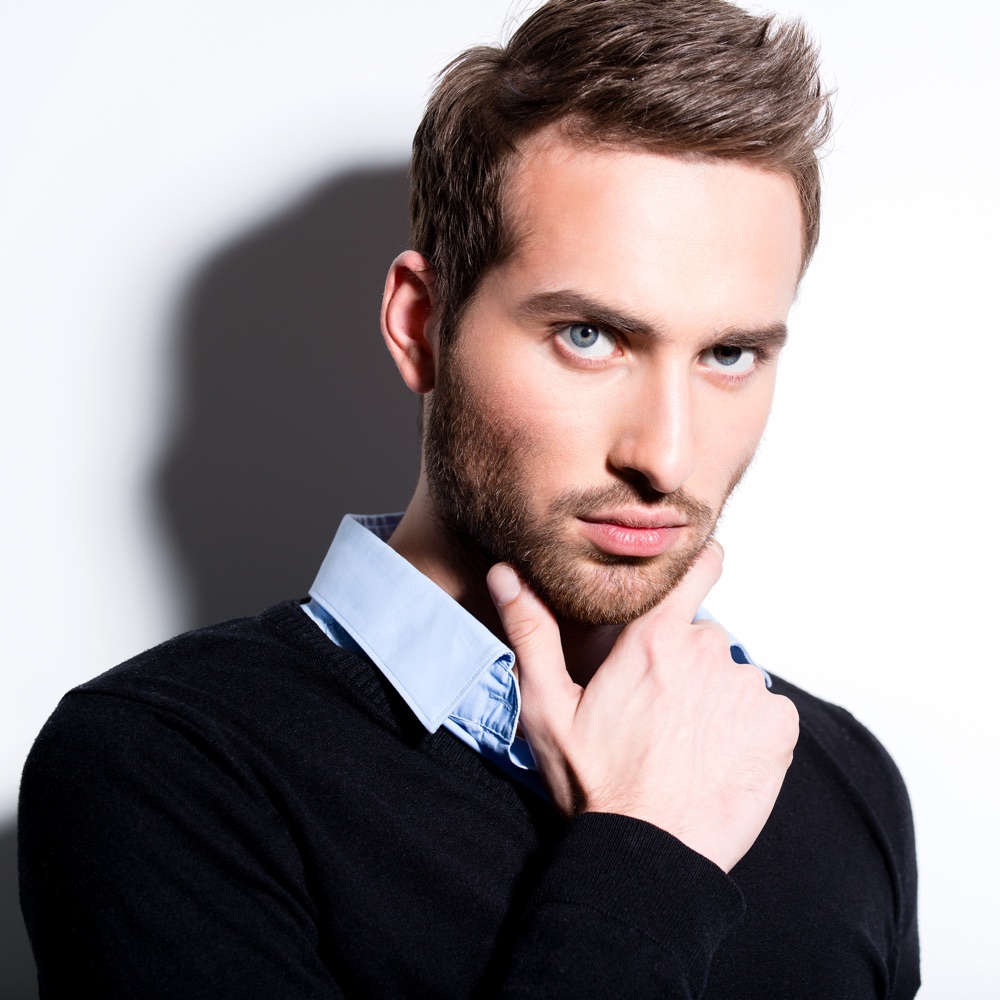 How can you dress business casual in a gender neutral way?
Of course, to give a professional impression, it is not necessary for women or people identifying as women to wear skirts or dresses. Business casual pants like khakis, tops like button-down shirts, or business casual shoes like loafers (and dark socks, please) are a perfect way to dress neutrally. Dark jeans are also often part of the business casual dress code.
So yes! You can wear jeans as part of a casual business attire. To be 100 % sure that your employer is okay with this, you could ask your colleagues or your supervisor in advance.
What are the Dos and Don'ts for a business casual look?
Now you already have a good idea of the so-called "business casual" dress code. Let's go into a little more detail about what is absolutely fine and what you should definitely avoid wearing:
Business casual Dos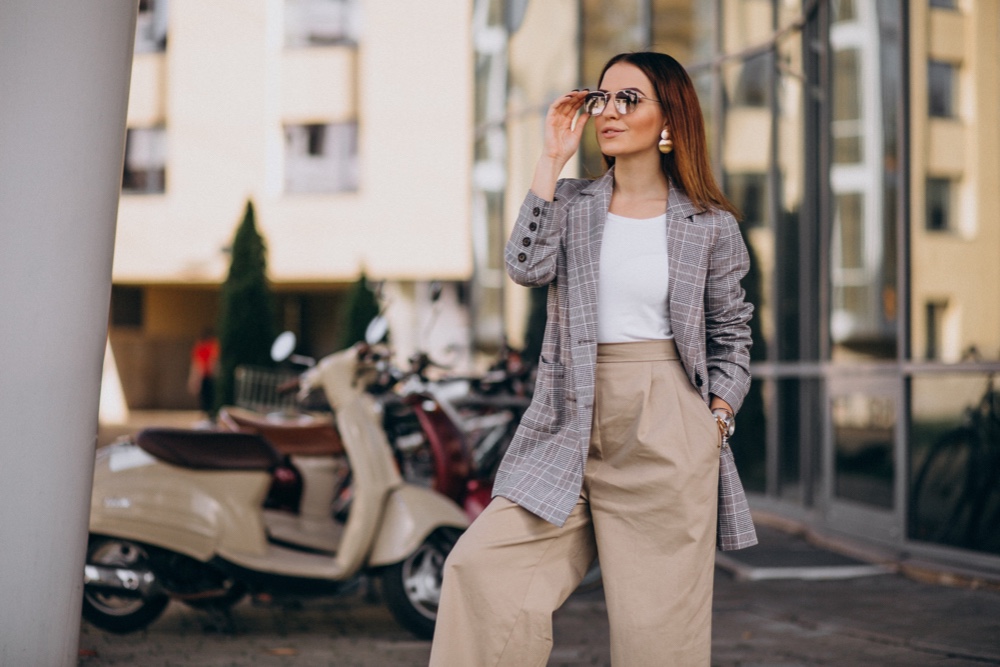 Khaki pants
Gabardine pants
Cord pants
Cotton pants
Sweaters
Twinsets
Cardigans
Polo shirts
Long sleeve shirts
Shift dresses
Blazers
Tip: Unicolored clothing is better than colorful or eye-catching patterns when it comes to this office dress style and helps you look more like a business professional.
It's best to choose clothes that fit you well while making you look business savvy. For this purpose, get some neutral pants that you can combine with different tops. When it comes to shirts, feel free to add a little more of your own style!
Business casual Don'ts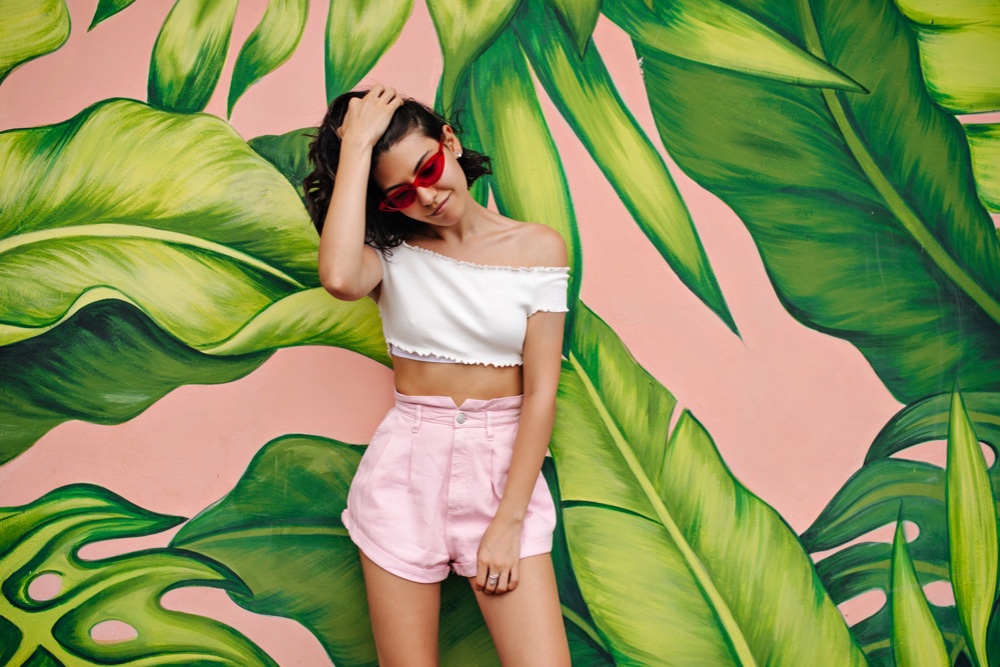 Tennis shoes
Flip flops
Peep-toe shoes
T-shirts
Logo-ridden shirts
Ripped jeans
Try not to wear old dress shirts or T-shirts with (large) logos on them. Also, always make sure that everything looks fresh and clean. Avoid wearing sneakers or sandals as well.
More tips on a business casual dress code
If you are new to a company, you should always dress a little more formally until you know the company's standards.
✅ It's best to simply ask your colleagues what exactly business casual entails at your company.
✅ Even if it is acceptable to wear jeans, you should always opt for your best jeans.
✅ Your outfit has to be formal enough that you can easily go into an unexpected meeting with your supervisor or client.
✅ If you work remotely, you may have to attend certain meetings on camera – so pay attention to your dress style in this case as well.
Tip: If you often have unexpected on-camera meetings, you can keep a blazer next to your desk that you can quickly slip on.
What if there is no dress code?
Your office may not have a professional dress code at all.
Our tip: Even if there is no specific dress code, you should still choose appropriate business casual attire. This means that you should always dress business casual in order to make a good impression and look professional.
That said, you should only wear clothes that you feel good in. Maybe you enjoy wearing suit pants or a full-on suit: Go for it! If you'd like to show up at the office in jeans, a T-shirt and sneakers, you can ask human resources if that's okay. Even if you are required to wear dress slacks, a blazer and dress shoes on weekdays, your office may have "Casual Fridays" with no dress code – where you are allowed to sport your tennis shoes!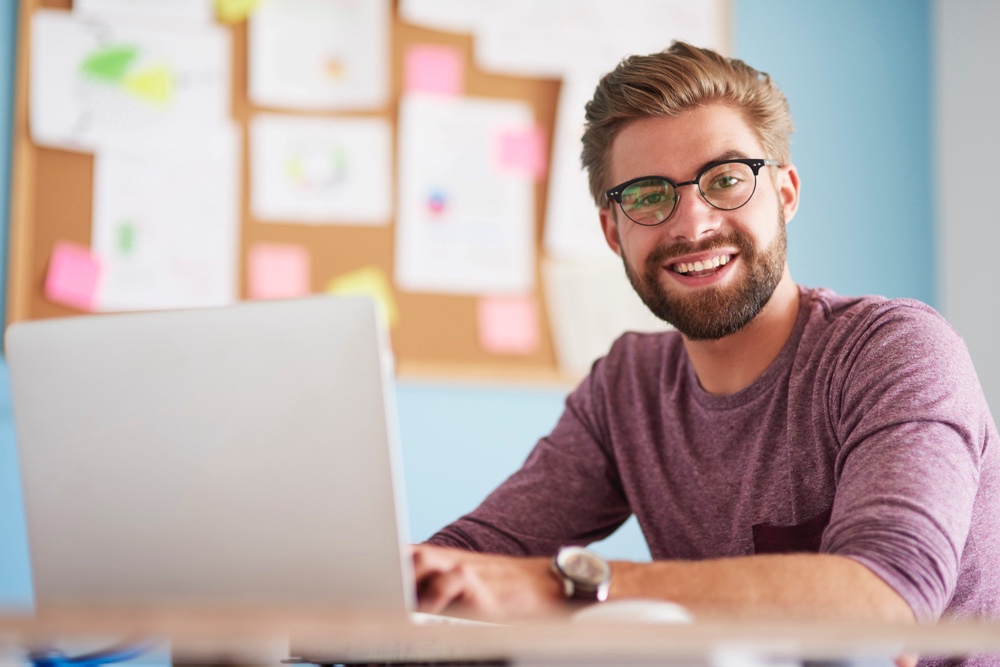 What does business casual entail in a job interview?
Are you applying for a job where the office has a relaxed dress code?
If so, you still need to dress appropriately for the interview. Always try to choose a more formal look for job interviews. For example, you can wear a suit jacket and slacks with a shirt or even a tie. In many cases, a sweater and a button-down shirt are also perfectly adequate. A blouse or an elegant dress with a blazer are equally suitable for a job interview.
Tip: Pay attention to certain dress codes in the industry. Even if the company itself does not specify anything: If you are applying to a bank, for example, you will definitely have to wear business attire.
On the other hand, if you are dressed overly formal for a job interview at a start-up company, you may not fit into the environment. Always try to dress appropriately and according to industry standards.
If you want to dress formally for your job interview, you will certainly have no trouble with these components:
Dress pants
Dress shoes
Dress slacks
Dress shirt
Leather shoes
Closed-toe shoes
Tip: Avoid wearing polo shirts. Jeans are also inappropriate in this kind of situation.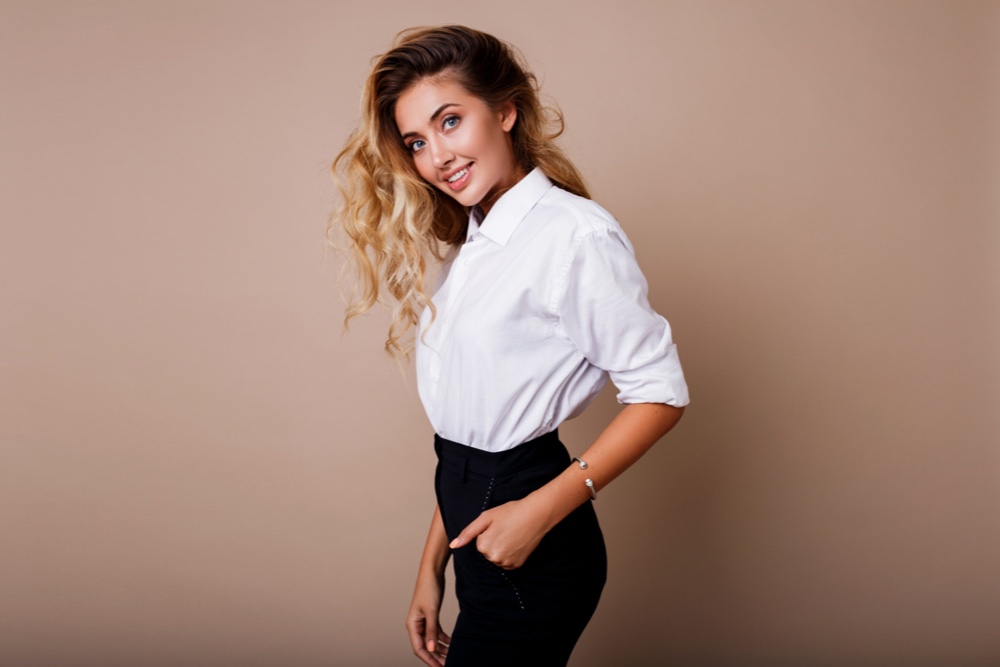 Conclusion: Easily convey a professional and businesslike impression
Your company's dress code is "business casual"?
This can be a great advantage for you, because business casual means that you have some freedom in choosing your daily office outfit. In companies with no dress codes, there is often a "business casual" environment where employees can choose to wear dress pants – or a simple pair of jeans.
To find the appropriate attire for your workplace, it's best to follow the standards that apply in your industry. Certain types of clothing (e.g., torn or wrinkled T-shirts) are always inappropriate – regardless of how casual your company is.
In case of doubt and with no available dress code, wear more formal attire.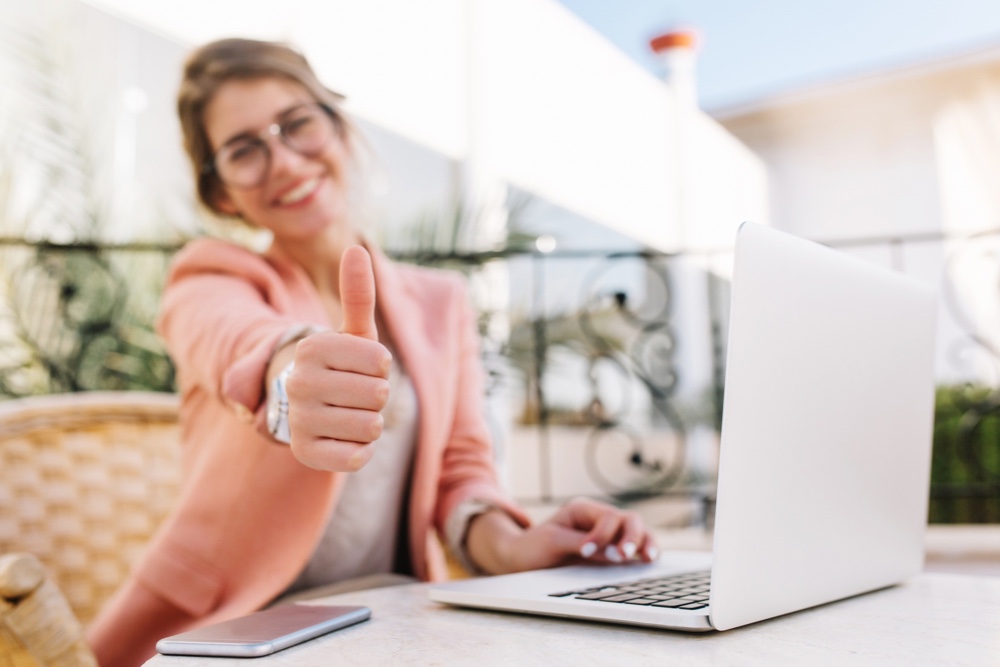 What is business casual? – FAQ
What is a business casual dress code?
Appropriate business casual attire generally includes pants, a dress shirt/blouse, possibly a tie, a dress, a blazer, a pullover, and shoes that cover all or most of the foot.
What is a business casual outfit for women?
Business casual for women includes a skirt or trousers, a blouse, a blazer and flat shoes.
What is considered business casual attire for men in 2022?
Men can wear suit pants or chinos, a button-down style shirt and dress shoes.