In this article, you'll learn about remote jobs in different industries and which are among the top 10 best-paying remote jobs.
Think about which industry you want to work beforehand. While you don't need a degree or training for every remote job, a certificate can often be beneficial. Read the job description and job duties carefully to find one of the best remote jobs or remote roles for yourself.
Your future job should match your vision in many factors. Salary, of course, always plays a role in choosing a career. But your interests, strengths and future opportunities should also be taken into account when choosing a profession.
You don't necessarily need prior experience or job-related skills to land a virtual job. But any skills or previous experience you have will help you stand out from other competitors.
How can I get a high paying remote job?
High paying remote jobs are naturally very popular because remote work offers a lot of freedom and remote employees enjoy many benefits that are denied to traditional employees with a traditional workplace.
Apart from the many remote job offers that give you room for personal development, remote workers can arrange their own working hours and perform their tasks regardless of their location.
Thanks to digitalization, working across borders, time zones and oceans is no longer a problem.
Another advantage is the variety of industries and job titles. There is something for every remote worker. Whether in the computer science, software engineering, tech jobs, marketing department, business development manager, quality assurance, cyber security or data scientists – almost in every industry there is a possibility of remote work.
Working remotely you can spend time in many different countries, and you can get in contact with many companies, hiring project managers or product managers for remote positions or have other attractive remote work offers for you.
Top 12 of the highest paying remote jobs
1. Writer
Writers can captivate their audience with their stories and communication skills. Have you always been good at writing texts and have a strong command of grammar? Then you could work as a writer or editor.
It is one of the best fully remote jobs and is currently high in demand.
The salary of a writer depends on the number of articles and stories written. Often billed per word, the salary usually increases with experience. Freelance writers are paid an average of $22.05 per hour.
2. Accountants
Do you enjoy working for companies and with people and have math skills? Then the profession of an accountant might be for you.
Accountants review financial accounts and provide advice based on that information. They ensure the financial stability of the business.
An accountant earns an average of $55,915 per year.
3. Remote tutors
Distance teachers can give online courses and teach students of any age group. They teach a range of subjects depending on their knowledge and communication skills.
This profession is one of the most widespread online jobs. Regardless of location, language and time zone, as an online teacher you can teach your students at any time.
The advantage for you is the customizable work schedule and the freedom to choose your location.
The salary is $21.59 per hour, so it is one of the well paid remote jobs.
4. Benefits administrator
A benefits administrator takes care of a company's employees and remotely reconciles benefits for them. For this job, one can avail telecommuting with salary benefits. Benefits administrator falls under high paying jobs with a salary of 80k with an estimated salary range of $50,000 – $80,000.
You can find job opportunities most easily on online job portals.
5. Graphic designer
Can you draw well and are creative?
Graphic designer is a popular remote job. Designers visualize ideas such as logos, fonts, ads, etc. using computer applications and make improvements based on customer feedback.
This is where your creativity is needed to set yourself apart from other graphic designers. A graphic designer earns an average of $3,444 per month. For this job you do not necessarily need a bachelor's degree.
6. Speech-language pathologist
Like virtual teachers, speech-language pathologists can connect with their clients from any location. Various software can be used to remotely assess and track a client's progress. This job requires a confident level of the language in question.
A speech-language pathologist is a high-paying remote job with a salary of over $80,000.
One more advantage is that you can serve clients all over the world.
7. Product designer
A product designer helps improve the usability of a product. They play an important role in the key stages of product development.
Product designers are among the highest-paying jobs. It's one of the remote jobs that pay up to $90,000 at entry level or even $100,000 annually.
Most product designers have a college degree, but it's also possible to become one without a bachelor's degree or a master's degree and teach yourself everything you need to know. In any case, it is important to gain relevant work experience before turning it into a lucrative career.
8. Social media manager
Many companies hire people to manage their social media sites, social media accounts and develop social media strategies for them.
Especially in the Corona era, when home offices are a hot topic, requests for account managers are on the rise.
This job is among the highest paying online jobs at around $61,668 per year. Salary increases with experience in this industry.
9. Software engineer
Software engineers work with programming languages to create or improve software applications or computer networks. The basic languages used are C++, Python, Java, etc.
To work as a software engineer remotely, you should have a bachelor's degree or better yet a master's degree in computer science, information technology, mathematics, etc. and a good knowledge of programming languages.
Experience in remote job will make you more attractive to the employer. Software engineers are among the highest paid remote jobs. It's one of the technical jobs that pays more than $100,000.
In total, it is a very lucrative profession and one of the top paying remote jobs.
10. Senior information security consultant/ Cyber security analyst
The primary duties of an information security consultant include network security, risk assessment, and assisting organizations with regulatory compliance.
Analysts will monitor networks for security breaches, research IT trends, and create plans for possible security issues. Cyber security analyst roles require experience with information technologies.
A senior information security consultant is among the high-paying virtual jobs, with annual compensation of $123,039.
You don't necessarily need a professional certification for this remote job, but it's good to have previous experience and analytical thinking skills. Furthermore, licenses like CISSP or CISA can increase your chances to be hired for this position.
11. Registered nurse
Registered nurses can provide medical advice, examine patients and create health plans by phone or via telemedicine video apps.
What was once only possible through in-person visits with nurses and other medical providers can now be done remotely for patients with the help of digitization.
You don't have to be a medical director to get a remote job in the healthcare industry. Average salary: $79,163 per year.
Nurses in a remote role often have the option of supplementing their income by working overtime or being on call for home visits when a client needs them.
12. Marketing director
Marketing directors lead and manage the development of appropriate marketing strategies and the execution of campaigns.
The position is one of the highest paying remote jobs because a client's future growth largely depends on a solid marketing strategy.
In this remote position, you can earn an average salary between $45,000 and $150,000.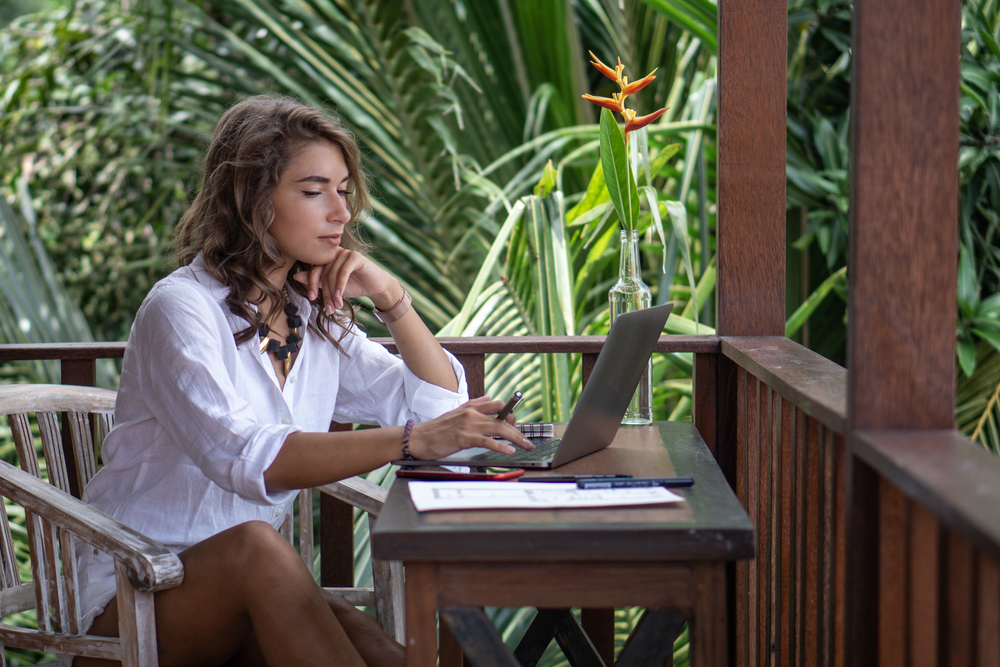 10 highest-paying remote jobs that don't require a degree
Web developer: Your primary duties as a web developer are to design, build, and maintain websites, ensuring they are both visually appealing and functioning properly. Daily tasks include testing website speed, updating code, backing up files, and collaborating with designers on website design. In this position you can easily work remotely. Average salary: $75,073
Real estate agent: Real estate agents sell, rent, and lease residential and commercial properties for property owners. Many real estate agents now work from home and use technology to provide self-guided home tours and online virtual tours. This allows you to earn an attractive commission-based salary, directly from home. This is one of the high paying online jobs. Average salary: $74,085
Mortgage underwriter: Your primary duties as a mortgage underwriter is to evaluate home loan applications and approve or deny them based on the borrower's financial situation. In this position you can easily work remotely. A good knowledge of math is a prerequisite here. They should also have very good communication skills and organizational skills. Furthermore, they help in keeping track of the financial records of a company. Average salary: $70,483
Success coach: If you are a positive person and can motivate your friends and family to achieve their goals, this job is for you. Success coaches help their clients to go above and beyond, set and achieve their goals. You must be able to identify your client's wishes and needs. Average salary: $68,929
Tutor: As a tutor, you can help children and adults to achieve their learning goals. Due to continued distance learning in many school districts, there is currently a high demand for tutors. Most use Zoom, Skype, or other virtual work tools to meet with students, making it possible to work completely location independent. With an average salary of $68,659, tutors are among the high-paying remote jobs.
Translator: The primary duties of a remote translator consist in translating documents from one language to another. In doing so, they ensure that the original meaning is preserved. When translating technical documents, they may consult experts to ensure accuracy. Some translators also facilitate live virtual meetings or symposiums between parties who speak different languages. For this well-paying remote job, you should obviously have a good command of the languages. Average salary: $60,118
Copywriters, bloggers, content writers: Copywriters create the text for marketing materials such as sales pages, email newsletters, blog articles, and social media posts. Their copy helps brands build a loyal audience and sell more products. They are also hired by nonprofit organizations and institutions such as museums, universities, and hospitals to write original copy. Average salary: $59,084
Media buyers: The primary duties of media buyers are to buy advertising space on radio programs, TV shows and billboards for their clients. They strive to maximize exposure for their clients by building relationships with media outlets and negotiating critical visibility. Average salary: $56,386
Animator/video creator: Animators create the visual effects and illustrations that appear on television, in movies, games, YouTube videos and more. Average salary: $56,027
Web graphic designer: If you're looking for top remote opportunities, online graphic design might be a good option, as many companies hire design interns as remote workers. You'll gain experience designing logos, ads, and websites for clients and also new remote job opportunities – all while earning an income that will allow you to move up in the field. Average salary: $54,378