Encouraging team spirit among team members
In times of agility and self-organization in companies, the importance of teamwork is growing. But what do we actually mean by team spirit? And how can you specifically promote team spirit in your company and build a healthy team culture and great teamwork?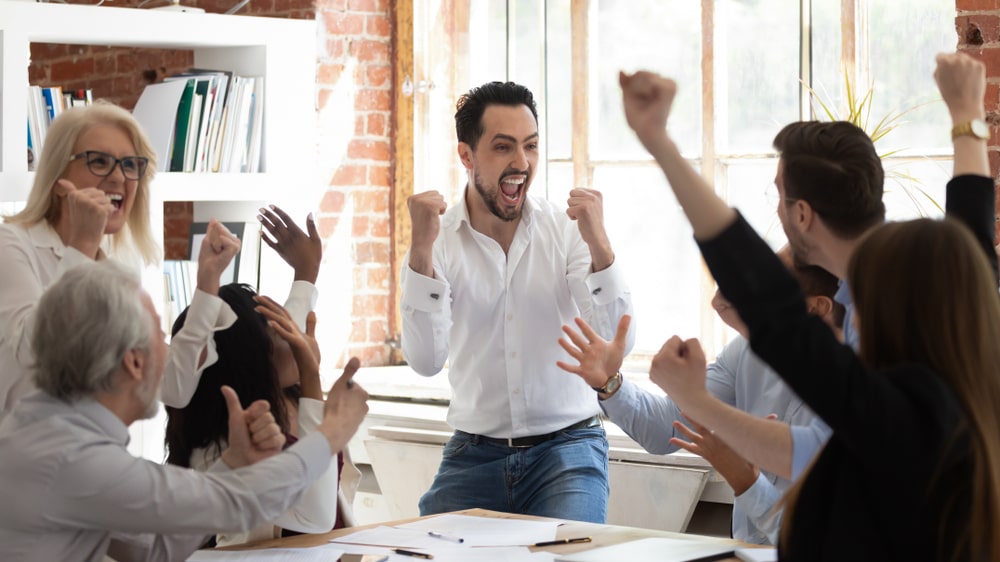 In today's company culture, teamwork is considered very important for the entire organization. Good teamwork is what can make a company truly successful. Effective teams work more efficiently and productively than any lone wolf, no matter how hardworking. Therefore, management encourages employee engagement and focuses on the team's ability to achieve the company's goals. The team leader has an understanding that everyone has different strengths and can bring their individual strengths to work with the entire team to create a final product that is outstanding.
But who is suitable to work in a team? How do you recognize a team player? And how do you increase the team skills of new team members and generally obtain satisfied employees for the whole organization? In this article, you'll get an overview of what makes teamwork work in an organization and tips on how to specifically encourage teamwork among the whole team.
The meaning of teamwork
The term teamwork is understood as a learnable social skill that enables a person to interact optimally with other colleagues, share ideas, have good communication and conflict resolution skills, and work towards a common goal or simply in the same direction as a team.
In this context, the competence to act with others in a team has little to do with obedience or yielding to other group members. To improve teamwork and build a stronger team, it's important to embrace differences and recognize that everyone has their own way of working and that it's okay to pull in different directions sometimes. Being a team player also doesn't mean you have to maintain a good relationship with every single colleague.
Rather, the ability to work in a team means:
Presenting one's own ideas and engaging in productive conversation at the workplace
Accepting and implementing constructive criticism without self worth struggles
Compromising on decision making progresses and to accept differences
Accepting team decisions and to embrace disagreements
Having an interest in common team goals and being on the same page with other team members
Communicating respectfully within the team and having the right attitude for the job
Discussing at eye level and to deal with others in a fair and reflective manner
Employees who demonstrate these competencies in their workplace can play an enriching role in team projects, succeed within teams, and increase the efficiency of the whole group. The team member's ability to build trust in conversation with group members, discover common interests, and develop new ideas can lead to productive and stronger teamwork.
Benefits of teamwork: Why team spirit is so important in companies
While employees typically contribute to the business on their own by completing tasks using each individuals' strengths, teamwork and group projects offer new opportunities for employee engagement: multiple employees working in a team together can make work more efficient and productive in a variety of ways.
If employees have the ability to integrate into a team environment, team projects offer several benefits:
Extensive exchange of information
Mutual support among co-workers
Increased resilience of employees
Pooling of diverse talents and experience
Smooth teamwork due to mutual trust among team members
More efficient work flow with better results
If the assignments and the responsibility for the individual tasks are clearly distributed within the team and everyone is on the same page, each team member can focus fully on the common goal.
Requirements for teamwork: These team skills are necessary
The ability to work in a team is made up of many different qualities and characteristics, which only in their entirety lead to successful cooperation with other team members in the workplace.
To be able to work in teams, an employee should possess the following characteristics:
Communication skills
Empathy and sympathy
Ability to cooperate
Tolerance and respect
Emotional and social skills
Willingness to compromise
Open to a new perspective
Initiative and commitment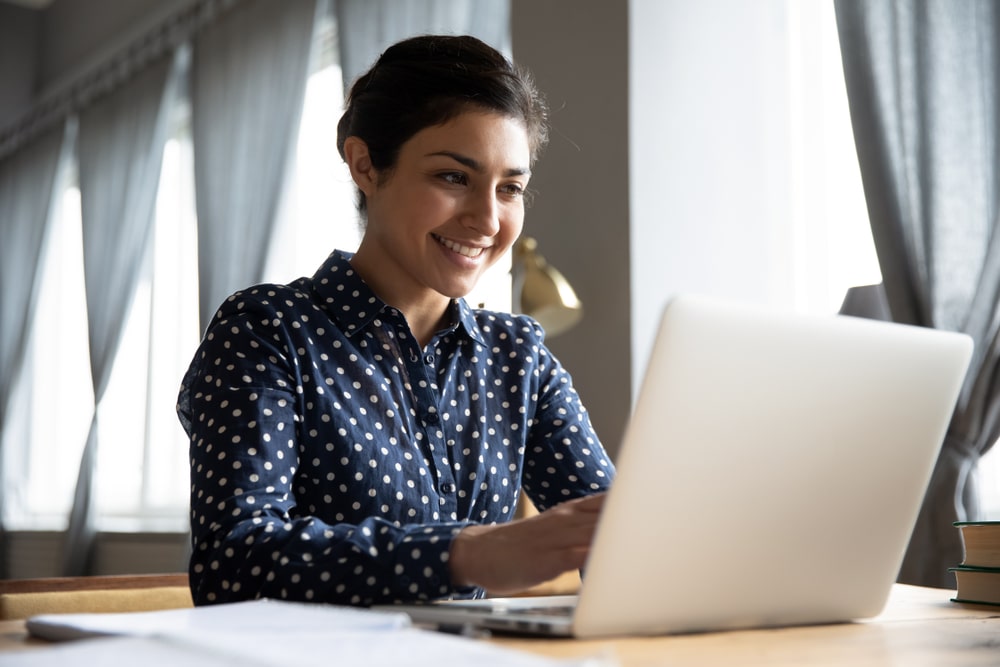 5 tips to encourage team spirit within the entire team
To encourage team spirit among group members and increase employee engagement, various activities are possible:
1. Encouraging team spirit through clear goals and corporate philosophy
Teamwork is based on a company's culture. Therefore, employees should be aware of what the company is all about. Next step: What does the group want to achieve together for the organization and how do they want to contribute to company culture?
To create company spirit in the workplace and to improve teamwork, it is essential that everyone is pulling in the same direction. It is crucial that common goals are formulated. In order to strengthen team development and to encourage team spirit or to keep them at a high level, a constant exchange of information and flexible action are vital: what is the current status, where are the problems, who needs support? In this way, problems can be identified and undesirable developments quickly corrected before they really take hold. In addition, regular meetings encourage team spirit.
2. Office space: Creating an environment for teams
Whether it's an open-plan, break or conference room, a workshop area or individual offices – a workplace where teams feel comfortable improves working conditions. Moving offices or restructuring is a major effort for the business, but every now and then swapping rooms or turning small office units into large ones, or vice versa, can improve workflows and encourage team spirit.
3. Clearly communicating work results within the teams
Whether the people involved are listed in the file name of a document or the software includes which team member is responsible for what: anything that makes sense in your company is possible. In this way, individuals are given an accountability for their own tasks in the team. Mentioning the person who did something gives the individual credit for the job and their ideas. It should never be underestimated by management what recognition at the workplace or in the company means to employees in general.
4. Bringing the team together through team building measures
Team spirit does not emerge simply by being dictated from above – it has to be built up: team members are individual personalities who need to get to know each other and their roles and develop mutual trust. This does not mean that everyone in the company has to become good friends, but they should respect and support each other in their clearly defined roles in the workplace. In order for the roles within the team to be performed effectively, attention must of course be paid to a good structure and organization, and the areas of responsibility must be clearly distributed among the employees.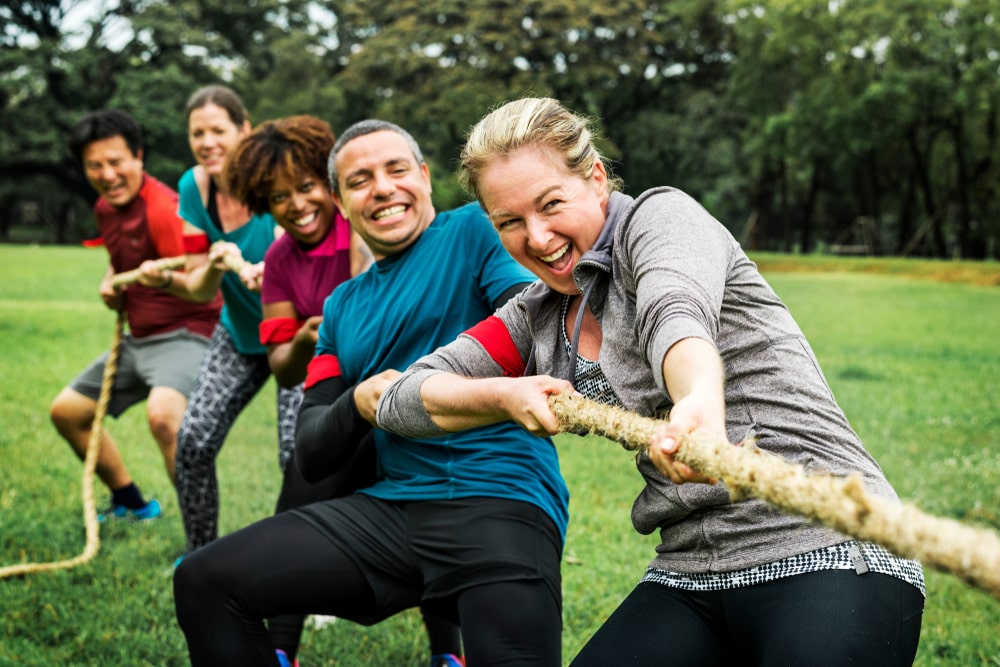 Ideas to encourage team spirit:
Teambuilding workshops
Team sports and social events
Teambuilding measures such as games and exercises for step-by-step team development
Coachings to strengthen the team spirit of the employees
The different situations enable employees to recognize and focus on where personal weaknesses and also strengths lie and create suitable solutions and ideas to strengthen team spirit. Individual feedback as well as feedback from co-workers, coaches or the management give employees a comprehensive picture and understanding of their own behavior in groups.
5. Creating responsibility and encouraging motivation
A good team is characterized by the fact that the individual members feel responsible not only for their own area of work, but for the overall success of the group. This is achieved not only by setting precise goals and providing a pleasant working atmosphere, but above all by motivating employees in a way that fosters team spirit. Employee motivation ranges from recognition and appreciation to confidence-building and experience-oriented team building measures. Which methods are best suited for team development depends on the team and the task at hand. Last but not least: teams should celebrate successes together! This also applies to important interim results for the company.
3 tips: How managers can actively encourage teamwork
#1: The right composition of teams
It is not only the teamwork skills of the individual employees that are decisive for the success of teams. The composition of the entire team also plays an important role. According to Belbin, there are several roles that should be present in every team for the project to be a success:
The Monitor Evaluator (thought-oriented)
The Specialist (thought-oriented)
The Plant (thought-oriented)
The Shaper (action-oriented)
The Implementer (action-oriented)
The Completer/Finisher (action-oriented)
The Coordinator (people-oriented)
The Team Worker (people-oriented)
#2: Organization and goal setting of teamwork
To ensure that a project runs smoothly and, above all, to give the members of a group the opportunity to demonstrate their ability to work as a team, a clear structure is crucial for the team work. The leader has the task of providing a precise goal and a plan to which the members can adhere. The individual steps and cooperation within the group must also be clarified and defined. This way, all members know which tasks are to be completed by whom, and what the work is intended to achieve for the business.
#3: Feedback and supportive communication
Feedback and communication provide the framework for team projects in the workplace. Praise, appreciation and an open dialog promote cooperation among team members. In addition, the manager should ensure that a sense of community and trust can develop and be maintained. Regular meetings, employee consultations and constant discourse among the members and with the manager enable conflicts to be resolved quickly. Communication between all participants can encourage the cohesion, productivity, satisfaction and motivation of the employees and gives room for new suggestions and constructive criticism.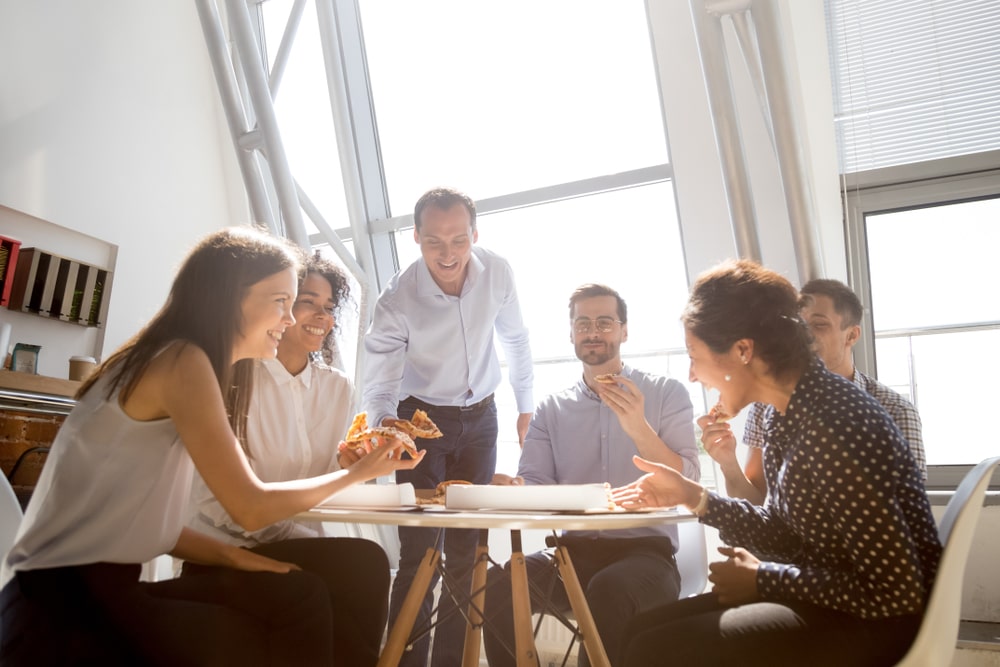 Conclusion
If you want to be successful with your company in the long term, you should think carefully about how you can strengthen team spirit. After all, a strong sense of community in the workplace and harmonious teamwork are demonstrably reflected in a company's success indicators.
To foster team spirit in the long term, companies should communicate a clear vision to their team members. In this way, it is clear to every employee where the journey is to go and what common goal is being pursued.
Attractive workspaces should also not be underestimated for team development. If, in parallel, work results of employees in the teams are fairly and equitably attributed and appreciated, this will most likely be rewarded with a strong team spirit.
Where possible, companies should complement this by viewing hierarchies as a fluid concept to give everyone on the team a sense of responsibility. Collaboration between young and old can also uncover new and previously unimagined potential.
By taking these tips for effective team development to heart, you can easily foster team spirit and take a big step toward strong teamwork!
FAQ
What does teamwork mean?
The term team skills refers to a person's social competence to work constructively with other colleagues, to work toward common goals, and to communicate with others in a respectful, empathetic, and compromising manner.
What does it take to be a team player?
To be a good teammate, you need to acquire the following qualities: the ability to handle criticism, communication skills, respect and tolerance, consideration and willingness to compromise, empathy and self-confidence.
How can the team spirit in a company be improved?
Common goals, the acceptance of all team members as well as the team ability of each individual employee supports the development of team spirit. However, team building measures such as various games, exercises or workshops also promote the team spirit of groups.
What makes a great team spirit?
A good team spirit is characterized by mutual appreciation, openness and a sense of belonging. Team spirit is quite compatible with competition and engaged discussions, because here the things that unite are more important than the things that separate.